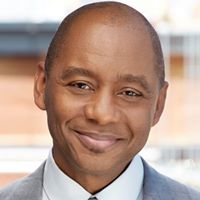 Branford Marsalis has stayed the course. From his early acclaim as a saxophonist bringing new energy and new audiences to the jazz art, he has refined and expanded his talents and his horizons as a musician, composer, bandleader and educator – a 21st Century mainstay of artistic excellence.
Growing up in the rich environment of New Orleans as the oldest son of pianist and educator Ellis Marsalis, Branford was drawn to music along with siblings Wynton, Delfeayo and Jason. His first instrument, the clarinet, gave way to the alto and then the tenor and soprano saxophones when the teenage Branford began working in local bands. A growing fascination with jazz as he entered college gave him the basic tools to obtain his first major jobs, with trumpet legend Clark Terry and alongside Wynton in Art Blakey's legendary Jazz Messengers. When the brothers left to form the Wynton Marsalis Quintet, the world of uncompromising acoustic jazz was invigorated. Branford formed his own quartet in 1986 and, with a few minor interruptions in the early years, has sustained the unit as his primary means of expression. Known for the telepathic communication among its uncommonly consistent personnel, its deep book of original music replete with expressive melodies and provocative forms, and an unrivaled spirit in both live and recorded performances, the Branford Marsalis Quartet has long been recognized as the standard to which other ensembles of its kind must be measured. Its most recent recording, Four MFs Playin' Tunes, was named Best Instrumental Jazz Album in 2012 by iTunes.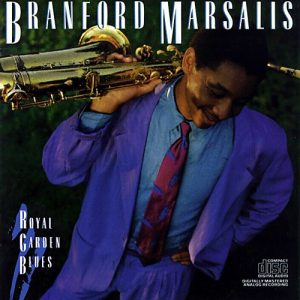 Branford has not confined his music to the quartet context. In addition to guest turns with a legion of giants including Miles Davis, Dizzy Gillespie, Herbie Hancock and Sonny Rollins, he has excelled in duets with several major pianists, including his boyhood friend Harry Connick, Jr. and the longtime pianist in his quartet, Joey Calderazzo. Branford's first solo concert, at San Francisco's Grace Cathedral, is documented on his latest recording, In My Solitude. Branford formed the Marsalis Music label in 2002, and under his direction, it has documented his own music, talented new stars such as Miguel Zenon, and neglected older masters including one of Branford's teachers, the late Alvin Batiste. Branford has also shared his knowledge as an educator, forming extended teaching relationships at Michigan State, San Francisco State and North Carolina Central Universities and conducting workshops at sites throughout the United States and the world.
Classical music inhabits a growing portion of Branford's musical universe. With a repertoire including works by Copland, Debussy, Glazunov, Ibert, Mahler, Milhaud, Rorem, Vaughn Williams, Villa-Lobos and Sally Beamish (who reconceived a work in progress, "Under the Wing of the Rock," to feature Branford's saxophone after hearing him perform one of her earlier pieces), Branford is frequently heard with leading symphony orchestras including those in Chicago, Detroit, Dusseldorf and North Carolina as well as the New York Philharmonic. He also served as Creative Director for the Cincinnati Symphony's Ascent series in 2012-13.
Broadway has also welcomed Branford's contributions. His initial effort, original music for a revival of August Wilson's Fences, garnered a Drama Desk Award for Outstanding Music in a Play and a Tony nomination for Best Original Score Written for the Theater. Branford also provided music for The Mountaintop, starring Samuel L. Jackson and Angela Bassett, and served as musical curator for the 2014 revival of A Raisin in the Sun. Branford's screen credits include the original music for Mo' Better Blues and acting roles in School Daze and Throw Momma from the Train.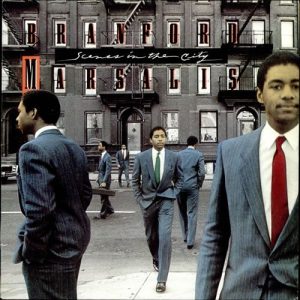 As for other public stages, Branford spent a period touring with Sting, collaborated with the Grateful Dead and Bruce Hornsby, served as Musical Director of The Tonight Show Starring Jay Leno and hosted National Public Radio's widely syndicated Jazz Set. The range and quality of these diverse activities established Branford as a familiar presence beyond the worlds of jazz and classical music, while his efforts to help heal and rebuild New Orleans in the wake of Hurricane Katrina mark him as an artist with an uncommonly effective social vision. Together with Harry Connick, Jr. and New Orleans Habitat for Humanity, Branford conceived and helped to realize The Musicians Village, a community in the Upper Ninth Ward that provides homes to the displaced families of musicians and other local residents. At the heart of The Musicians Village stands the Ellis Marsalis Center for Music, a community center dedicated to preserving the rich New Orleans musical legacy containing state-of-the-art spaces for performance, instruction and recording.
Some might gauge Branford Marsalis's success by his numerous awards, including three Grammys and (together with his father and brothers) his citation as a Jazz Master by the National Endowment for the Arts. To Branford, however, these are only way stations along what continues to be one of the most fascinating and rewarding journeys in the world of music
Discography
Milestones
2012
Satchmo to Marsalis: A Tribute to the Fathers of Jazz
2011
The Ellis Marsalis Center for Music officially opens in the Musicians' Village of New Orleans
Branford, Ellis, Wynton, Jason, and Delfeayo Marsalis are honored as NEA Jazz Masters
2010
Branford Marsalis Makes his Debut with the New York Philharmonic
2009
2006
Branford Marsalis Quartet releases "Braggtown"–  The Quartet's new Braggtown, which Marsalis Music will release on September 12, addresses all of these areas and more. Drawing upon a world of inspirations, including an 17th Century English composer, an Indian Warrior and a Japanese horror film, Braggtown is the Marsalis band's most comprehensive and compelling recording to date.
2004
Branford Marsalis Quartet releases "A Love Supreme: Live In Amsterdam" DVD–  For Marsalis Music's second DVD release, label founder Branford Marsalis and his quartet have been captured in a complete performance of John Coltrane's 1964 masterpiece A Love Supreme. This legendary suite, which tenor saxophonist Marsalis included on his label's premier release, Footsteps of Our Fathers, was performed at Amsterdam's Bimhuis during a European tour in March 2003.
2003
Branford Marsalis Quartet releases Romare Bearden Revealed–  Jazz musicians have frequently inspired and been inspired by visual artists; but the interchange has never been more direct and intense than on Romare Bearden Revealed, which was released by Marsalis Music on September 9, 2003. This disc, comprised entirely of newly recorded music, was produced by saxophonist Branford Marsalis in celebration of The Art of Romare Bearden, the major retrospective that opened at the National Gallery of Art in Washington, D.C. on September 14, 2003 and subsequently traveled to museums in San Francisco, Dallas, New York and Atlanta during 2004 and 2005.
The Marsalis Family embarks on a tour of Canada and the United States to support their release "A Jazz Celebration"-  For the first time ever, the Marsalis Family joined together to perform a series of concerts in support of their newly released album, "A Jazz Celebration." Beginning the tour in Toronto, Ontario, the group also performed in cities including Montreal, Quebec, Syracuse, NY, Newark, NJ, Philadelphia, PA and Boston, MA.
2002
Marsalis Music Opens Its Doors – a new record company designed to provide a home for committed creative musicians.
2001
Marsalis Family Concert to Honor Ellis Marsalis –  For the first time, all of the musical Marsalis brothers- Branford on saxophone, Wynton on trumpet, Delfeayo on trombone, and Jason on drums- performed together with patriarch Ellis Marsalis to honor their father's retire from his faculty position at the University of New Orleans. This concert was recorded for history with the release of The Marsalis Family: A Jazz Celebration CD and DVD.
Creation– the most recent of his classical recordings, a collaboration with Orpheus Chamber Orchestra is released. It features a program of jazz-influenced and inspired classics from early 20th century French composers, including Milhaud, Ravel, Debussy and
Branford later tours selected dates in the U.S. and Japan with the conductor less Orpheus Chamber Orchestra, playing selections from his classical album.
Contemporary Jazz Earns Branford his Third Grammy in the category "Best Jazz Instrumental Album, Individual or Group"
2000
Joins SFSU Music Faculty (Part-Time)
Contemporary Jazz–  Branford's twelfth album. This album features drummer Jeff "Tain" Watts, bassist Eric Revis, and pianist Joey Calderazzo, successor to the late Kenny Kirkland.
1999
Requiem –  Release of Requiem, Branford Marsalis' first quartet album since Crazy People Music in 1990. CD features late pianist Kenny Kirkland, bassist Eric Revis and drummer Jeff "Tain" Watts. Requiem is later nominated for a Grammy in the category of "Best Jazz Instrumental Performance Individual or Group."
Marsalis Produces David Sanchez's "Obsesión"–  Branford Marsalis' first project as producer and creative consultant for Columbia Jazz, David Sanchez's Obsesión, is nominated for a Grammy in "Best Latin Jazz Performance" category.
1997
Marsalis appears in "Eve's Bayou" – National release of director Kasi Lemmons' debut film, "Eve's Bayou," in which the multi-faceted saxophonist portrays a poignant cameo role. The film stars Samuel L. Jackson, Debbie Morgan, Lynn Whitfield, Lisa Nicole Carson, and others.
Creative Consultant to Columbia Jazz –  In an historic decision, Columbia Records president Donnie Lenner names Branford Marsalis as the creative consultant to Columbia Jazz. Branford's new role makes him instrumental in shaping the creative direction of the label through the signing of new talent and providing creative input to current artist roster.
Music Evolution–  Buckshot LeFonque's second CD, Music Evolution, is released worldwide. It includes an early multimedia offering or "CD Extra" described as "free multimedia" and intended for playback on your computer…
1996
Dark Keys–  Release of Dark Keys marks Marsalis' first recording in the jazz trio format since his acclaimed 1993 album, Bloomington. The album is described as a wonderment of texture, mood, and air-tight ensemble performance and receives critical acclaim from musicians and critics alike.
Loved Ones–  Branford's collaborative duet with father/pianist Ellis Marsalis, is released.
Branford accepts a position as the first appointee to theCatherine Herrick Cobb Distinguished Lectureship at Michigan State University.  He continued in this capacity through Spring, 2000.
1995
1994
Buckshot LeFonque – Branford releases the self-titled debut album from his newly formed Buckshot LeFonque (named after a pseudonym used by Cannonball Adderly in the 50's). An eclectic blend of rock, R&B, hip-hop and blues with a jazz sensibility, this project features artists such as DJ Premiere, poet Maya Angelou, the late blues guitarist Albert Collins and others.
Wins Grammy Award in "Best Pop Instrumental Performance"with Bruce Hornsby for his single "Barcelona Mona."
Branford performs on hip-hop star Guru's "Jazzmatazz"
1993
Records "A Love Supreme" for AIDS Benefit CD –  Branford's rendition of the John Coltrane classic, "A Love Supreme." Proceeds benefit the Red Hot Organization and their mission to promote awareness of AIDS through popular culture.
Bloomington– a spectacular live album recorded at Indiana University in Bloomington(the same concert is featured in the film "The Music Tells You"). The album is hailed by brother Delfeayo as Branford's "most important jazz record". On the album, Branford is joined only by the rhythm section of Hurst and Watts in a truly electrifying performance.
Wins FIRST Grammy Award –  I Heard You Twice The First Time, wins a Grammy in "Best Jazz Instrumental Performance, Individual or Group."
1992
Sneakers–  Branford is the featured soloist on the soundtrack of the movie "Sneakers," starring actor Robert Redford.
I Heard You Twice The First Time– highly-anticipated blues album released. It features the saxophonist's staunch and acclaimed rhythm section with pianist Kenny Kirkland, bassist Robert Hurst and drummer Jeff "Tain" Watts." Also highlighted are B.B. King, John Lee Hooker, Wynton Marsalis, Wes Anderson, Russell Malone and Linda Hopkins.
"The Music Tells You," a documentary-style feature, is commercially released. The films follow the consummate artist in a variety of settings including in concert, recording, teaching and in interviews. Special appearances are made by Sting, Jerry Garcia and Bruce Hornsby.
Premieres as Bandleader of "The Tonight Show with Jay Leno"-  Branford is joined by Kenny Kirkland, Robert Hurst, Jeff "Tain" Watts, guitarist Kevin Eubanks, trombonist Matt Finders, trumpeter Sal Marquez and percussionist Vicki Randle.
1991
Branford Marsalis performs with the Grateful Deadon New Year's Eve 1990 –  Branford Marsalis joins the Grateful Dead for the first time at the Oakland Coliseum Arena in Oakland, California on  December 31, 1990 for a special New Year's Eve performance. This is a relationship that continues to this very day!
The Beautyful Ones Are Not Yet Born – Produced by Delfeayo Marsalis, the CD highlights Branford in a trio setting for the first time since Trio Jeepy. Joined by Hurst and Watts, Branford has special guest performances by saxophonist Courtney Pine and trumpeter Wynton Marsalis.
Grammy nominations abound –  Branford earns two Grammy nominations: "Best Jazz Instrumental Performance, Soloist" for Crazy People Music and "Best Instrumental Performance, Group" for music from Spike Lee's "Mo' Better Blues,"
1990
Crazy People Music– Branford Marsalis Quartet with Kirkland, Watts and Hurst
"Jazz Thing" –  A rap performed by Gangstarr over the closing credits of Spike Lee's movie "Mo' Better Blues," is issued as a single. Co-written by Branford Marsalis and co-produced with DJ Premiere, "Jazz Thing" merges rap and jazz for the first time in a successful synergy introducing a new approach to music.
The Russia House –  Branford is the featured performer on the score and the soundtrack album of Australian movie director Fred Schepsi's film, "The Russia House," featuring Sean Connery.
1989
Trio Jeepy–  the album nominated for a Grammy for "Best Instrumental Performance" in both the Soloist and Group categories.
1988
Random Abstract –  produced by Delfeayo, with Kirkland, Felix and Nash. Like Royal Garden Blues, this release is nominated for "Best Jazz Instrumental Performance" in the Soloist or Group category.
Second Grammy nod –  Nominated for"Best Jazz Instrumental Performance, Soloist," for "Cottontail," a track from the Duke Ellington Orchestra's Digital Duke album
Tours with Sting-  Branford embarks on an extensive international year-long tour with Sting. Highlights include Freedomfest concert for Nelson Mandela which is broadcast live from Wembley Stadium in London via satellite and the Amnesty International tour and HBO special recorded in Japan.
1987
Renaissance – Produced by brother Delfeayo, the album features pianist Kenny Kirkland, bassist Robert Hurst and drummer Tony Williams.
Hosts inaugural show of VH1's "New Visions" Series
1986
Royal Garden Blues –  This album, his second jazz album on Columbia Records, garners the saxophonist his first Grammy nomination for "Best Jazz Instrumental Performance-Soloist" and is produced by Branford's younger brother, Delfeayo, and features his father, pianist Ellis Marsalis, on one of the tracks.
Romances for Saxophone –  Recorded with producer Mowery and the English Chamber Orchestra, featuring the music of Faure, Ravel, Debussy and others. It stays on Billboard's Top 5 classical chart for over two months.
Tours with Herbie Hancock's band (bassist Ron Carter and alternating drummers Al Foster and Tony Williams)
1985
Live Aid Concert-  Branford performs with Sting at the original Live Aid Concert at Wembley Stadium before a crowd of 72000 music fans and activists.
Branford is introduced to Sting, the leader of the Police, and they form the first band with Kenny Kirkland, bassist Daryl "Munch" Jones and drummer Omar Hakim beginning an on-going affiliation which resulted in acclaimed albums Dream of the Blue Turtles(1985) and Nothing Like the Sun (1987) as well as the video documentary "Bring On The Night" and its UK-only release of the double LP by the same title (1986).
1984
Branford releases Columbia debut, Scenes In The City. It's the first jazz production by renowned classical producer Thomas Mowrey. The title track (composed and recorded over 20 years before by Charles Mingus) turns into a nocturnal celebration of the jazzman's lifestyle.
1981
Spends the summer touring with Clark Terry before returning to work with Art Blakey's ensemble.
1980
Lands a two-week gig touring with Lionel Hampton!
Plays baritone sax in an Art Blakey big band lineup touring Europe
1979