Jay Lane's roles on drums have earned him a place in San Francisco's music history. Lane began drumming at the age of 9 and by 16 was playing in his first band. He started performing in the Bay Area in the early 1980s in a band called Ice Age that featured childhood friend and current Spearhead guitarist Dave Shul. Another childhood friend, saxophonist Dave Ellis, got Lane his next gig with a local ska band, The Uptones, which he played with for two years before joining another popular Bay Area group, The Freaky Executives, in 1985.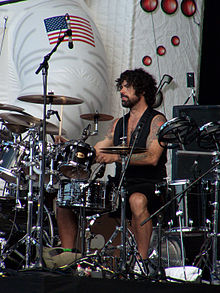 After four years of steady gigging and a huge record deal with Warner Brothers that eventually was shelved, Lane met Les Claypool in the halls of the rehearsal space the bands shared. Claypool invited Lane to join his group, Primus, and they played together for about eight months—including a recording session for the Primus cassette "Sausage"—until Claypool was ready to hit the road and Lane needed to bow out due to prior commitments to The Freaky Executives.
Shortly thereafter, Lane co-founded the pioneering hip-hop/jazz group Alphabet Soup with saxophonist Kenny Brooks, New York keyboardist Dred Scott, and rappers Chris Burger (The Mo'fessionals) and Zachariah Mose. Alphabet Soup recorded two albums—1994's Layin' Low in the Cut and 1996's Strivin'—and shot a video that featured regularly on BET.
Also during those years, Lane reunited with old friends—seven-string guitarist Charlie Hunter and sax man Dave Ellis—to form the original Charlie Hunter Trio. The trio recorded two albums, the first on Claypool's Prawn Song label and the second—Bing Bing Bing!—on Blue Note records.
During Lane's tenure with the Charlie Hunter Trio, Lane started playing with Grateful Dead guitarist/vocalist Bob Weir and bassist Rob Wasserman in a side project that would eventually become Bob Weir and RatDog. Also during this time, Les Claypool reunited with Lane and Primus' original guitarist, Todd Huth, to put together a band called Sausage. They recorded an album, Riddles, on Interscope records in 1994, shot a video of the title track that was played on "Beavis and Butthead" several times, and did a tour with the Rollins Band and Helmet that summer.
When it rains it pours! After Jerry Garcia passed in 1995, RatDog began a steady touring band. Playing with a great like Bob Weir gave Lane the opportunity to meet and play with many incomparable musicians, such as the true father of rock and roll, pianist Johnnie Johnson (Johnnie Johnson Trio, which hired a then-unknown Chuck Berry). Evening Moods (1999) and Live at Roseland (2001), featuring his work with RatDog, are available through Grateful Dead Records. Also in 2001, Lane appeared once more alongside Claypool and Huth, plus others, on the Colonel Les Claypool's Fearless Flying Frog Brigade albums Live Frogs Set 1 and Live Frogs Set 2, the latter of which is a complete performance of Pink Floyd's Animals. In 2002, Lane guested on the Frog Brigade's studio album, Purple Onion.
Additionally, in 2002, Lane earned accolades from his peers and fans, winning "Drummer of the Year" at the California Music Awards. His beats are urban, funky, and fluid, and demonstrate the physical power and stamina he's built over a lifetime on the drums.
In 2005, Lane toured with both Les Claypool's Fancy Band (Skerik, Mike Dillon, Gabby La La) and Bob Weir & RatDog; layed down beats in his home studio; and played Bay Area shows with Alphabet Soup between tours. This same year, Claypool released his retrospective DVD 5 Gallons of Diesel, featuring many projects that included Lane and Lane toured with him as part of his Fancy Band.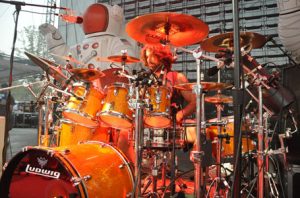 In 2006, founding Soup rappers Zach Mose and Chris Burger formed a new group with Soup rapper Mike Blake and Mo'fessionals rapper Kingpin Rowski called The Band Of Brotherz, which aimed to pioneer hip hop with more of a reggae/world influence. They recorded a single, Down in Babylon, for a Katrina benefit CD that spawned a slew of great songs produced by Zach from his Golden Baboon Studios. Lane hopped on board right away, and they took it to the club. With a few recruits—Kenny Brooks (saxiphone player in Ratdog), Dave Shul, DJ Teeko, Andre Marshall, Jeff Chimenti (Ratdog/Furthur/Dead & Company/Golden Gate Wingmen), and legendary , and legendary six-string bassist Troy Lampkins (all Soup mainstays)—they performed a handful of early shows. 2009 saw the Band of Brotherz playing more shows nationwide including shows at the Fillmore and Austin's South by Southwest Festival along with an east coast spring tour. Special guests included Bob Weir, Rob Wasserman, and Gaby La La. In fall, the debut CD Deadbeats and Murderous Melodys was released featuring cutting edge hip-hop infused covers of Grateful Dead songs, supported by a tour of the East Coast of the United States and a number of dates nationwide with special guests, including the trio of Lane, Weir and Wasserman reunited under the name Scaring the Children.
In fall 2009, Jay became a charter member of Bob Weir and Phil Lesh's new band, Furthur. Along with Jeff Chimenti, John Kadlecik (Dark Star Orchestra/Furthur/Golden Gate Wingmen), and Joe Russo (Joe Russo's Almost Dead, Furthur, Phil Lesh and Friends, Benevento/Russo Duo) the band played a sold-out three-night stand at Oakland's Fox Theatre followed by several well-received U.S. tours. In summer 2010, Jay rejoined Les Claypool in Primus
In addition to performing in nearly every state, much of Europe, and Japan, he has appeared on Austin City Limits, VH1 Classic's All-Star Jams, and The Today Show.
Credits
Golden Gate Wingmen
2014 – now
Primus
1986 – 1988, 2010 – 2013
Sausage, 1988
June 2010 Rehearsal (EP), 2010
Green Naugahyde, 2011
Bob Weir and RatDog
1995 – now
Evening Moods, 2000
Live at Roseland, 2001
Alphabet Soup
1992 – now
Layin' Low in the Cut, 1997
Strivin', 1995
Band of Brotherz
2006 – 2010
Deadbeats and Murderous Melodys, 2009
Furthur
2009 – 2010
Les Claypool's Fancy Band
2005
Les Claypool's Fearless Flying Frog Brigade
2000 – 2001
5 Gallons of Diesel, 2005 (DVD)
Purple Onion, 2002
Live Frogs Set 2, 2001
Live Frogs Set 1, 2001 complete performance of Pink Floyd's Animals
Christión
1996
Ghetto Cyrano, 1996
Les Claypool and the Holy Mackeral
1996
5 Gallons of Diesel, 2005 (DVD)
Highball with the Devil, 1996
Charlie Hunter Trio
1992 – 1995
Bing! Bing! Bing!, 1995
Charlie Hunter Trio, 1993
Three Guys Named Schmo
1994
5 Gallons of Diesel, 2005 (DVD)
Sausage
1994
5 Gallons of Diesel, 2005 (DVD)
Riddles are Abound Tonight, 1994
The Freaky Executives
1984 – 1989
The Uptones
1983 – 1984
KUSA, 1984
Ice Age
1982
GEAR
Drums
Ludwig Classic Maple Orange Glass Glitter
18×22 Bass Drum
8×6 TomTom
8×8 TomTom
8×10 TomTom
14×16 Floor Tom
Sponsored by
Ludwig
Vader Drumsticks since 2010
VIDEOS
Vater Percussion – Jay Lane – Primus
PRIMUS – Jay Lane – San Francisco 9/14/2010 via
Hammerax NAMM 2011 / Primus Drummer Jay Lane via hammerax1
WEIR HERE #14 3-27-13 with Leslie Mendelson, Steve Kimmock, Dave Schools, Jay Lane at TRI Studio