The New Mastersounds rank among the preeminent modern soul and funk bands of their time. The New Mastersounds have been delighting audiences with their infectious brand of funky soul-jazz since they formed in Leeds, UK, in 1999. Since then the quartet tour the globe regularly, bringing their hard-charging, delectably greasy jams to all corners of the globe with a rabid fanbase that stretches from New York City to Tokyo, San Francisco to Amsterdam and all points in between. Though they have collaborated over the years with such musical luminaries as Maceo Parker, Fred Wesley, Corinne Bailey Rae, Art Neville, Quantic, and Lou Donaldson, they are at their best on stage as a tightly-packed quartet – bass, drums, guitar and Hammond organ – firing scorching funk grooves off each other and feeding off the energy of the joyful dancers in the front row.
From their inception nearly two decades ago in Leeds, UK, The New Mastersounds have wholeheartedly embraced the "old school" label—their sound rooted deeply in those classic soul jazz, boogaloo and funk albums on labels such as Blue Note and Prestige by artists like Wes Montgomery, Jimmy Smith, Jimmy McGriff and Lou Donaldson.  In the course of their career spanning 17 years, 15 albums and countless tours and live performances around the globe, British four-piece The New Mastersounds have carved out a unique space for themselves as world-class purveyors of contemporary jazz-funk. Their particular blend of mostly instrumental, guitar-driven grooves has developed throughout the years to include a rich tapestry of textures that find their full expression in latest full-length and eleventh studio album "Renewable Energy".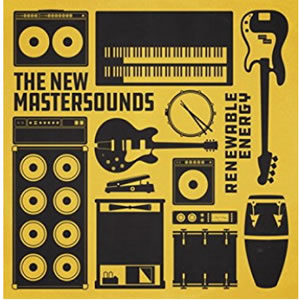 Recorded in two separate sessions, one in New Orleans and the other in Denver a few months later, "Renewable Energy" expands on the NMS template while still providing plenty of the band's trademark sounds. Guitarist Eddie Roberts, drummer Simon Allen, bassist Pete Shand and keyboardist Joe Tatton are joined on this 11-track effort by a number of guests: Sam Bell, one of the founding members of NMS precursor The Mastersounds who also guested on two previous NMS albums plays percussion on most of the tracks. Mike Olmos and Joe Cohen of West Coast Horns once again provide added horn action as they did on "Made For Pleasure" from 2015, while Adryon de León from LA band Orgone contributes vocals on "Gonna Be Just Me". Uptempo numbers "Tantalus" and "Yokacoka" see the band flexing their playing chops over a tightly-wound rhythm, while "Green Was Beautiful" and "Groovin On The Groomers" are toe-tapping slabs of soul jazz. The band's cover of James Gang's "Funk 49" takes the album in a fuzzed-out psych-rock direction with Eddie singing the lead, while the moody Hancock-esque inflections of "Stash" and the sweet mellow vibes of "Swimming With My Fishes" add the final brushstrokes of color to the canvas.
After almost two decades of activity it's obvious The New Mastersounds are in no shortage of fuel, indeed they appear to have found the formula with which to stay relevant and fresh, running on "Renewable Energy".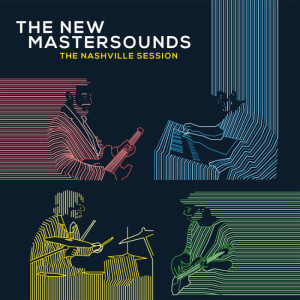 In their previous release, The Nashville Session, a 10-track collection cut at Welcome To 1979 studio in Nashville, which was multi-tracked live onto one-inch tape in a single evening session in front of a small studio audience. Following the performance, the recording was mixed down to quarter-inch stereo and cut direct to vinyl lacquers. There are no guests and no overdubs, just bass, drums, guitar and organ—essentially pure New Mastersounds. Hitting the studio at the tail end of their Fall and Winter 2015 cross-country U.S. tour, the band was razor sharp and vise tight. They selected material to record from across their 16-plus year career and ten studio albums. The lone exception being their take on legendary jazz guitarist Grant Green's arrangement of James Brown's "In The Middle."
"We made the decision to record in this context because our older tunes have been evolving over a decade and a half of live presentation. Once-spontaneous improvised sections have gradually become fixed into the live arrangements. Much of the change has come about since organist Joe Tatton joined the band in 2007," explains drummer Simon Allen. "It was also the perfect time to capture the cheeky, spontaneous and confident energy of a live show at the point—straight off of tour—when the band was at the top of its game. As lovers of '60s and '70s funk and soul jazz, we have never much enjoyed the sound of modern digital live recordings. Somehow the balance of frequencies such recordings deliver is never what we crave; our music just makes the most sense to our ears and to our feet when everything is crunched onto tape, exactly the way the music that first influenced us was recorded."
The Nashville Session was released exclusively on vinyl via a limited edition 1000-piece pressing on Royal Potato Family which you can purchase here. Top to bottom gritty, greasy and funky to the bone, the collection presents The New Mastersounds at their finest—utterly unadulterated by modern digital technology, full-on analog and unapologetically doing it old school.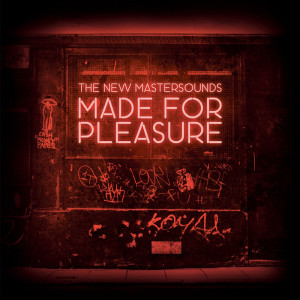 In 2015, The New Mastersounds returned with "Made For Pleasure" — their most sprawling and ambitious record to date. The band's core four are joined on the 11-track effort by guests including super fabulous soul chanteuse Charly Lowry, revered percussionist/vibraphonist Mike Dillon and the North Cali-based West Coast Horns, featuring tenor saxophonist Joe Cohen and trumpeter Mike Olmos.
Recorded in New Orleans, The New Mastersounds high-step through the humidity and heat leaving no soul or funk touchstone unturned. Both the title track and "High & Wide" are drenched in The-Meters-meet-Lee-Dorsey Big Easy funk, while tracks like "Enough Is Enough," "Joy" and "Just Gotta Run" are firmly rooted in classic soul sister rhythm & blues tradition; think Tina Turner, Ann Peebles, Bettye LaVette. Super-charged by Eddie Roberts' stinging guitar leads, "Cigar Time" and "Sitting On My Knees" take a decidedly soul jazz turn, diving headlong into Grant Green grit and groove. Capping off Made For Pleasure and further validating its title is a dubbed out reinvention of Iggy Azalea's smash hit "Fancy" that cleverly turns the pop artist's ode to materialism into a 21st-century stoner anthem with the repurposed refrain, "I'm so irie."
The New Mastersounds know what feels good and deliver it in spades on their latest long player, and rightfully so, as it was after-all…Made For Pleasure.
Band Members
Eddie Roberts – guitar
Simon Allen – drums
Pete Shand – bass guitar
Joe Tatton – organ and piano
Videos
Video teaser for new album
Video for track off new album "Tantalus" by The New Mastersounds
Video for track off new album "Green Was Beautiful" by The New Mastersounds
Video for track off new album "Stash" by The New Mastersounds
Full length concert video
The New Mastersounds: 2016-12-03 – College Street Music Hall; New Haven, CT [4K]
Tour Dates
[ecs-list-events organizer_id='3486′ design="compact" fgthumb="white" bgthumb="#0a0a0a" buttonfg="white" buttonbg="#0a0a0a timeonly="true" venue="true" button="Buy Tickets" limit='20' excerpt="true" ]
---