They've become one of Brooklyn's freshest exports – nine charismatic men and women brightly outfitted to have their colorful nature match their expressive voice.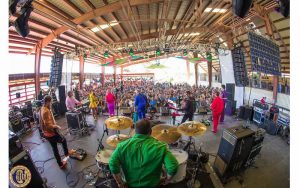 Turkuaz is a rock band at its core that blends soulful sounds with potent funk grooves. Since hitting the road in 2012, Turkuaz have released a handful of albums, canvassed the US more times over, and continue to gather devoted listeners along the way. A quickly addictive pulse coupled with a reputation for their trademark "Powerfunk" sound has earned steadily growing attention across the nation. Just over the past two years, the band has made impactful appearances at Bonnaroo, Red Rocks, Lock'n, Mountain Jam, and have been filling rooms coast to coast from Terminal 5 in New York to The Fillmore in San Francisco.
Drawing from the conventions that have ignited their existence and using that spark to forge its own sword, Turkuaz is a band that will make anyone move to their familiar beat, yet stay intrigued by an ability to explore its own complex character comprised of nine striking personalities.
"This Brooklyn-based nine-piece delivers horn-filled funk incorporating elements of R. & B., psychedelic pop, gospel, Afro-pop, New Wave, classic rock, and just about any genre that gets people dancing."
– The New Yorker
"Turkuaz's rapid ascension to relevance can be aptly compared to how fast and focused they play onstage." 
– Relix Magazine
"Turkuaz will raise the roof on any given night." 
– Live For Live Music 
"Brooklyn-based funk-soul act Turkuaz have been making quite a name for themselves thanks to bombastic live performances across the country" 
– Jambase.com
"Like a summer carnival on a Friday night, Turkuaz spins, climbs, rotates, and revolves.  The aesthetics are alluring and this engine fires on all pistons." 
– Poughkeepsie Journal 
---
Turkuaz Photo Gallery
Band Members
Dave Brandwein / Guitar, Vocals
Taylor Shell / Bass
Craig Brodhead / Guitar, Keyboards
Michelangelo Carubba / Drums
Chris Brouwers / Trumpet, Keyboards
Greg Sanderson / Tenor Sax
Josh Schwartz / Baritone Sax, Vocals
Sammi Garett / Vocals
Shira Elias / Vocals
Videos
Turkuaz – On the Run (Official Video)
Turkuaz (feat. The New Mastersounds) "On The Border"
Turkuaz – The Generator
Turkuaz – Doktor Jazz