Phil Lesh is best known as being a founding member and bass player for the 1960s rock group Grateful Dead.
Synopsis
American musician Phil Lesh was born on March 15, 1940, in Berkeley, California. Exposed to classical music early, Lesh played the violin at age 8 and switched to trumpet at age 14. He took private lessons in high school and explored avant-garde classical and jazz music. In 1962, he met bluegrass banjo player Jerry Garcia and later joined his band, the Warlocks, as bass guitarist. The band renamed itself the Grateful Dead and Lesh played with the band from 1965 to 1995.
Early Life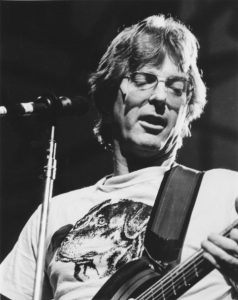 Phillip Chapman Lesh was born on March 15, 1940, in Berkeley, California, the son of Frank and Barbara Chapman Lesh. His father was an amateur musician and small business owner. While both his parents worked, young Phil was cared for by his maternal grandmother, Jewel "Bobbie" Chapman. An avid listener of classical music, she often had the radio while taking care of Phil. His earliest memory is being carried away by Brahms's First Symphony.
At age eight, Phil Lesh began playing the violin and joined the Young People's Symphony Orchestra in Berkeley, California playing classics from Beethoven to Wagner. At age 14, he switched to trumpet. In his sophomore year, he transferred from El Cerrito High School to Berkeley High School for music courses in harmony. During this time he developed a keen interest in avant-garde classical music and free jazz. Phil Lesh credits school music programs with his success in music.
In 1958, Phil Lesh enrolled at the University of California, Berkeley as a music-major, but was quickly disenchanted with the restrictive music curricula. He transferred to Mills College in Oakland, California, and enrolled in Luciano Berio's modernist music class. There he learned the mechanics of music theory and wrote several compositions. However, he found it difficult to get his pieces performed as he was not an established composer. For a time he made a living driving truck for the U.S. Postal Service.
Life with the Grateful Dead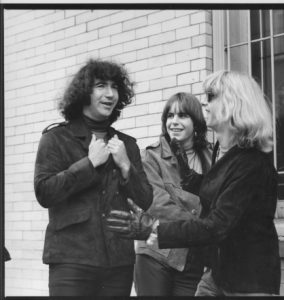 In the spring of 1965, Phil Lesh met bluegrass banjo player Jerry Garcia, whose band, the Warlocks, was playing at a party. Lesh wasn't into rock and roll at the time, but really liked the band's music. He mentioned to Garcia an interest in playing the bass guitar. A few weeks later, Garcia invited him to join the band. Lesh learned the bass while playing several of the band's gigs. Soon after, they changed their name to the Grateful Dead.
With his earlier musical training, Lesh developed in improvisational style with the Grateful Dead that more resembled Bach counterpoint than rock and roll. Thus, he became a musical pioneer like several other rock bassists of his time: John Entwistle of The Who, Jack Cassidy of Jefferson Airplane, Roger Waters of Pink Floyd, and Jack Bruce of Cream.
As one of the seminal bands of the 1960s and 70s, the Grateful Dead was known for its eclectic style. The songs fused rock, bluegrass, folk, blues, and occasionally reggae, and country. Most noticeably during live performances, they blended jazz, psychedelia, and space rock in long musical improvisations, running as long as 45 minutes. Through their near-endless touring, the band gained the devotion of thousands of fans, known as "Deadheads." The band was also known for its alleged illegal drug consumption. After a drug bust, while on tour in New Orleans, the band memorialized the event in the song "Truckin."
From 1965 through the 1970s, Phil Lesh and the Grateful Dead toured perpetually. During this time, Lesh composed some the band's more popular songs including "Unbroken Chain", "Box of Rain", and "Pride of Cucamonga." In the band's early years, his high tenor voice contributed to the rich texture of the Grateful Dead's four-part harmony. However, in 1974, he had to stop singing due to vocal cord damage. In 1982, he dropped his register to baritone and resumed singing with the band.
In the 1970s, Phil Lesh began exploring several independent music projects, though never straying too far from the parent band. In 1975, Lesh recorded "Seastones", an experimental collaboration with electronics wizard Ned Lagin and contributions by Grateful Dead bandmates Jerry Garcia and Mickey Hart, members of Jefferson Airplane, Grace Slick and Spenser Dryden and David Crosby of The Byrds and Crosby, Stills, Nash and Young fame. The effort was met with mixed reviews, even by devoted Deadheads. One music reviewer described it as "cybernetic bio-music."
Post-Dead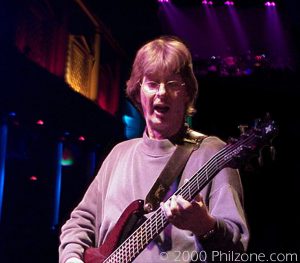 On August 9, 1995, Grateful Dead guitarist Jerry Garcia died of an apparent heart attack after a long struggle with drug addiction. Upon hearing of this death, Phil Lesh wrote in his autobiography, "I was struck numb. I had lost my oldest surviving friend, my brother." The remaining members of the band decided not to continue as the Grateful Dead but did organize several other bands with Grateful Dead alumni. "The Other Ones" was formed in 1998 with original band members Bob Weir, Phil Lesh and Mickey Hart. They later changed their name to "The Dead." Phil also formed his own band, Phil Lesh and Friends.  In 1999, he co-headlined a tour with Bob Dylan. Lesh continued the tradition of Grateful Dead family music with side project Phil Lesh and Friends, which paid homage to the Dead's music by playing their originals, common covers, and the songs of the members of his band. Lesh operates a music venue called Terrapin Crossroads. He scaled back his touring regimen in 2014 but continues to perform with Phil Lesh & Friends at select venues,  notably the Capitol Theatre, as well as at festivals. From 2009 to 2014, he performed in Furthur alongside his former Grateful Dead bandmate Bob Weir.
Personal Life
Phil Lesh and his wife Jill, administer a charitable organization, the Unbroken Chain Foundation. They have two children, Grahame and Brian, who both are musicians and have followed in his father's footsteps. In 1998, Lesh underwent a successful liver transplant, a result of chronic hepatitis C and when performing regularly encourages members of the audience to become organ donors (tracks identified as the "donor rap" on the live recordings of his various performances). He is now an advocate for organ donor programs. In 2005, he wrote the book Searching for the Sound: My Life with the Grateful Dead. The book takes its name from the lyrics of a Grateful Dead song titled "Unbroken Chain," from their album From the Mars Hotel. "Unbroken Chain" is one of the few songs Lesh sings. This was the only book about the Grateful Dead written by a member of the band until 2015 when Bill Kreutzmann released his memoir, Deal: My Three Decades of Drumming, Dreams and Drugs with the Grateful Dead. In 2006, Lesh announced he was diagnosed with prostate cancer, a disease that killed his father. He underwent surgery and later announced he was cancer-free.  He took part in the 2015 Fare The Well concerts and a short North American tour with Bob Weir in the spring of 2018.
"In a way, it's my way of dealing with, finding closure with Grateful Dead music, and giving thanks in a way to Jerry and Bob and all the guys in the band for making up this wonderful music."

—Phil Lesh

"So what it boils down to, in my humble opinion, is that we need to support the arts in schools, and at every other level in the education of children."