How many highly successful musical artists do you know that have thrived for 20 years without a radio hit, a big budget video, or major label backing? Moreover, have managed to do high-profile TV appearances, own and operate their own independent label since day one, sell several million albums and continue to expand their fan base across the globe each year. They've collaborated with such uniquely famed artists David Byrne, Perry Farrell, The Flaming Lips, Anushka Shankar, Femi Kuti, Seu Jorge, Bebel Gilberto, and been featured on major film soundtracks such as Garden State. They've headlined top music festivals, such as Coachella and Lollapalooza, and have influenced a whole generation of electronic producers and DJs. If you add these elements together, you can arrive at only one conclusion: Rob Garza and Eric Hilton, aka Thievery Corporation.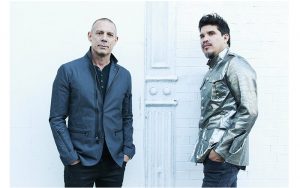 Since 1996, Garza and Hilton have released 8 studio LP's, 2 remix collections, 2 DJ mix albums, and continued to perform live on 5 continents. Along their unique musical journey, they have virtually defined an entire sub-genre of electronic music. And now they're ready to embark on yet another journey with the release of their new album, "The Temple of I & I."
Longtime fans of Thievery Corporation are keenly aware that the duo has been heavily influenced by Jamaican music. Since their debut LP, "Sounds from the Thievery Hi-Fi," the production team has applied a uniquely diverse dub ethos and aesthetic to their music. After paying tribute to bossa nova and easy listening inspirations on their 2014 release, "Saudade," Hilton and Garza set their sights on the culturally rich and warm musical environs of Port Antonio, Jamaica. There, they dove even deeper into their singular exploration of classic Jamaican sounds for the "The Temple of I & I." "The innovation, spirit and power of Jamaican music is a constant source of creative manna for us," explains Hilton. "On the musical map, Jamaica is an entire continent. We could have spent a year there, soaking up the vibes in the air, and constantly being inspired by the strength and resilience of the people."
Their journey began on a cold February morning in 2015 when Garza, Hilton, and their DC-based rhythm section touched down in Kingston and ventured across the Blue Mountains to what Jamaicans call the "real Jamaica
" Port Antonio. Setting up camp at Geejam Studios in San San, they felt immediately connected to their surroundings as they began recording just steps from the turquoise waves crashing below. As the Thieves played through day and night, heads poked through studio doors as curious locals seemed intrigued by such authentic sounds. "People couldn't believe Robbie Myers, our guitarist, wasn't Jamaican," laughs Hilton. "I think they're used to people coming down from London or LA to record rock or pop records and they were amazed we had such a handle on their sound. It was beyond gratifying, and high-grade ganja and Appleton rum started showing up on the reg."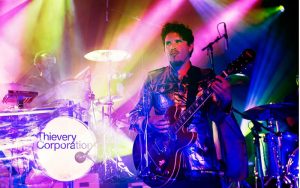 After a week of round-the-clock sessions, Thievery Corporation brought the Geejam session tapes back to their lab at Montserrat House Studios in DC. From there, the mission continued with months of vocal, horn and editing sessions. Familiar voices appear, including Notch Howell, who had performed "The Richest Man in Babylon" and "Amerimacka" on previous records. Hilton calls him, "possibly the best male tenor we know." Other collaborators included Mr. Lif, Puma Ptah, Lou Lou, Zeebo and Elin, who are all known by the Thievery audience as key members of their ensemble, both from past recordings and their live shows.
Also figuring prominently in those sessions was a Thievery Corporation newcomer; Racquel Jones from Kingston, Jamaica. Garza and Hilton had met Racquel on their first trip to Port Antonio, where she played some demos for them at Geejam that used Thievery Corporation as a backing track, and which sounded like a perfect match to them. "We'd been waiting years to find a conscious, brilliant, female Jamaican singer and MC," Hilton explains. As a model and former Miss Jamaica contestant, one would not expect the pure lyrical fire and tough delivery that comes out of her on tracks like "Letter to the Editor" and "Road Block." "It's impressive," says Hilton. Few musical artists are as diverse as Thievery Corporation, moving from space rock, hip-hop, Indian trip-hop, dub, French torch songs, and shoe-gazer blissfulness with remarkable cohesive ease. Boundaries and following trends have never been part of Garza and Hilton's agenda.
Explains Rob Garza, "We've never been concerned with fitting into the 'music industry.' We started making music in the liquor room of DC's Eighteenth Street Lounge with random bits of music gear among boxes of spirits. Approaching our music as a production duo has allowed us to never feel limited to one particular sound and traverse many fascinating musical landscapes."
In great anticipation of this exciting new release and in the reflection of an astonishing two decades together, one may be prompted to ask what has been the magic formula behind Thievery Corporation's great success and what does the future hold from here? Perhaps the answer can be found in Rob Garza's concluding thoughts: "What inspires us to continue to create this genre of sound is the broad spectrum of collaborators and audience members it continues to draw. We have been extremely privileged to work with artists of all cultural, social and political backgrounds, and our fans display even greater diversity and age differences. The people who have come together through Thievery Corporation are as much an accomplishment as the music we've produced to date and will continue to produce in the coming years."
---
Band Members
Eric Hilton
Rob Garza
A vanguard in his own right, Rob Garza has consistently pushed conceptual frontiers, succeeding in an intercontinental legion of musical prowess and accomplishing a covetable sonic narrative.
The San Francisco-based producer and co-founder of Thievery Corporation, known for their holistic performances and electronic-infused modifications of dub, trip-hop, reggae, and bossa nova, has maintained a prolific career owing to his ever-evolving taste and diverse influences based off the cultures and styles encountered during his travels. Constantly inspired by his surroundings and experiences, Garza's artistic foresight has always supported a fundamental motif of connecting people through music. As a solo artist, Rob Garza infuses his own adept house and nu-disco artistry into every one of his productions, boasting a specific style that is perceptive, powerful and globally-stimulated.
Elementally defined by his unique perspective, Rob Garza's work is a glowing attraction to the relationship between human emotion and musical expression, while his sonorous and multi-faceted output continually strengthens the backbone of his experiential pedigree – a distinctive merit that remains uniquely unmatched.
Ashish Vyas
Ashish Vyas is a bassist and artist whose eclectic musical taste has guided him on his sonic adventures. His influences and interests have taken him from improvisational, avant-garde music to post-punk rock to exotic, world sounds and rhythms to electro-pop…
Currently, he is recording and performing with electronic, world music, downtempo pioneers THIEVERY CORPORATION; and on the other end of the spectrum in post-punk rock outfit TIME is FIRE.
He was a founding member of the now-defunct San Diego art rock band GoGoGo Airheart (1996-2006). Who released several albums, EP's and 7″ singles. That lead to tours throughout the States and Europe.
As a performer, he has toured with or played with artists as diverse as Marshall Allen (Sun Ra), Lou Pride, Federico Aubele, SEE-I, Everyone Orchestra, Natalia Clavier, Sleepy Wonder, Grant Green Jr., Chris Haskett (Rollins Band), Ron Holloway, and others who have slipped his mind.
Jeff Franca (aka Congo Sanchez) 
Jeff Franca's (aka Congo Sanchez) time as the drummer for Thievery Corporation has clearly had an effect on his ears as he continues to explore the downtempo, reggae mezcla, with an obvious hip-hop overtone to the overall musical composition. You will be taken through an array of sounds and rhythms, paying homage to the roots of music with thick layers of percussion, signature to the Congo Sanchez sound. Most importantly the band puts out a conscious message which is typically non-existent in most of the music we hear these days.
Mr. Lif
Born and raised in Boston, Lif broke out with his seminal Enters The Colossus EP and quickly established himself as one of the most ambitious and forward-thinking MCs in the game.
As the first artist to sign to the legendary Definitive Jux Recordings – a movement in both independent rap and independent music culture – Lif cemented his status with a string of critically acclaimed releases, including Emergency Rations, I Phantom, & the Perceptionists' Black Dialogue project.
A 9-time Boston Music Award winner, Lif has been featured on MTV, Rolling Stone, SPIN, The NY Times, The Village Voice, Entertainment Weekly, and XXL, among others.
In 2011, Lif joined legendary world music group Thievery Corporation as a vocalist and member of the band's live performance troupe. His song "Culture of Fear" became the title track of their 6th studio album.
Lif has toured over 20 countries as a soloist, and has collaborated with a slate of critically acclaimed musicians including Aesop Rock, Cut Chemist, The Polish Ambassador, Galactic, Chali 2na, Jedi Mind Tricks, El-P, DJ Q-Bert, Del the Funkee Homosapien, Murs, and DJ Krush.
Today, if Lif is not in the studio tracking vocals or building beats on Maschine, he is on stages worldwide bringing his musical experience directly to the people.
LouLou Ghelichkahani 
LouLou Ghelichkahani is was born in San Jose California and raised in Paris, France. The Singer/Songwriter records and performs with Thievery Corporation, as well as Bonefur and Night Glitter.
Natalia Clavier
Growing up in Buenos Aires, Natalia Clavier was immersed in a world of music – classical, jazz, Argentinian folk & pop and Spanish singer-songwriters, as well as the revolutionary sounds of American soul and protest rock.  A move to Barcelona broadened her horizons further, and she was soon adding vocals to dance singles, singing live at raves in front of thousands as well as solo in the rather more intimate surrounds of the jazz circuit. There she met fellow ex-pat Federico Aubele, an Argentine singer-songwriter with several albums to his name on Thievery Corporation's label Eighteenth Street Lounge (ESL Music). Natalia and Federico became partners, in music and in life, and the demos they made soon led to her debut album, Nectar, released in 2008 on ESL Music.
Nectar took a traditional approach, using Natalia's pure and beautiful voice to gorgeous effect over spare jazz-soul arrangements. It was a perfect reflection of where she was at during that period, as was Live at the Triple Door, the live album that followed one year later, and her live work as the lead vocalist with the celebrated Thievery Corporation.
But a later move to Brooklyn brought new sounds, new ideas and a new urge to incorporate the dynamism of one of the world's premier melting spots into her Buenos Aires soul. In came Adrian Quesada, Grammy-winning producer and guitarist with Grupo Fantasma, The Echocentrics and Ocote Soul Sounds. Together they've wrought a transformation for her new album, Lumen. In place of Barcelona's laidback vibe, Lumen moves with the bumper-to-bumper bustle of Brooklyn, a place where sounds collide and mutate.
This new direction is evident right from the start with Every Time. Not only is Natalia now singing in English (though most of Lumen remains in her native tongue), but the drums strike with the hypnotic power of a hip-hop loop. The piano line is stripped back and simple, like vintage Dr. Dre, while the guitar resonates with a James Bond twang. Adios! adds the delirious psychedelic energy of The Echocentrics (another of Quesada's groups and one for whom Natalia has sung), a track with all the zip of Nuggets-era garage, but the snap of its distinctively South American rhythm.
Lumen is where Natalia steps out from behind the curtain and places herself center stage – the next step on her journey from the concert halls of Buenos Aries to the world festival circuit. It's an album as relevant to the streets of New York as the boulevards of Buenos Aires.
These are songs of love and lust, of excitement and adventure. Most of all they're songs of life.
Christopher "Puma" Smith
Christopher "Puma" Smith is an MC, vocalist, and photographer based out of Washington, DC. Born in St. Thomas in the U.S. Virgin Islands, he has performed with Thievery Corporation since 2011.
Frank Orrall
Frank O is percussionist and vocalist with Thievery Corporation, as well as the lead vocalist and founder of Poi Dog POndering.
See-I
See-I, Washington, DC's most prodigious live band, have built on the sound and success of their debut record to create a work that comes straight from the heart. Founded by brothers Arthur "Rootz" Steele and Archie "Zeebo" Steele, who have toured and performed for over 15 years as frontmen for the Thievery Corporation live band. See-I is comprised of Rob Myers on guitar, Ashish Vyas on bass, Jeff Franca on drums, Frank Mitchell on saxophone and Salem Steele on keyboards, all of whom live within the 10 x 10-mile square known as Babylon, er… the Nation's Capital. From humble beginnings in North Carolina, the Steele Brothers got their start singing in the church choir and were soon transfixed by the funk, soul and rock sounds they heard on the radio in the 1970s. Decades of musical depth and experience are the secret weapons they bring to the table, both live and in the studio.
Raquel Jones
Via the Jamaica Star: "Recording artiste Racquel Jones has reportedly made quite the impression on EDM group Thievery Corporation. The 26-year-old roots-reggae singer braved the recent blizzard that hit the east coast of the United States to fly to Washington, DC, where she met up with the group and created a great first impression.
The news gets even better because the former Miss Jamaica Universe contestant revealed that greater things are in store for her. "There is not much that I am allowed to say right now, but just know that a relationship has been cemented between Thievery Corporation and Racquel Jones," said the extremely excited singer.
The artiste, who is in the embryonic stages of her recording career, had flown to the US expecting to record one track with the group but got a lot more than she bargained for.
"The sessions were creatively intense. I spent five days in the studio," a thrilled Jones revealed about the sessions with TC. "The initial agreement was that it was supposed to be one song, but the energy was so great we ended up with three songs."
The Wonder When singer said she also discovered the enormous impact that reggae music has on the world stage. "It was amazing to see the influence of my culture and reggae music on others; everything about them depicts their fascination about reggae. From the decor of the studio to the sound of their music to the studio conversations we had, I felt right at home in the amazing creative atmosphere they created."
The singer, who is near releasing the hot new video for her new single, Regret It, said she felt honored and humbled to have been given an opportunity to be part of the experience." – Via Leighton Levy at Jamaica-Star.com
Notch
Notch was one of the Former lead vocalist and one of the creative force behind the Reggae-Hip-Hop duo Born Jamericans; the dynamic group that is often said, to be one of the pioneers to introduce Reggae to mainstream American in the late nineties; thru that time period til now He has shared headline billing on sold-out tours around the world with the likes of Destiny's Child, Snoop Dogg, Sean Paul, Rabanes, Daddy Yankee, Tego Calderon, Don Omar, Beenie Man, Shaggy, Shabba Ranks, just to name a few.
Shana Halligan
During and since her time as the lead singer/songwriter of Bitter: Sweet, Shana Halligan has sold more than 500,000 records and has accumulated over 70 album credits to her name. Additionally, her music has received numerous high-profile synchs and licensing deals in film, TV, ad campaigns and beyond, including Sex and The City, The Devil Wears Prada, Focus, Cars 2, "The Feud," "The Blacklist," "Orange Is The New Black," "Entourage," "Nip Tuck," "Grey's Anatomy" and "Desperate Housewives," just to name a few. She's also collaborated with many major acts, including writing and recording with Serj Tankian of System Of A Down and Thievery Corporation (co-writing and performing their biggest hit in recent years "Depth Of My Soul"), and has performed at several celebrated venues around the globe, including the Hollywood Bowl, The Kennedy Center, the Royal Albert Hall (London), the Bowery Ballroom (NYC) and the Hotel Cafe (L.A.).
New Album details
Full, continues audio stream of Thievery Corporation's 2018 release, "Treasures From the Temple." GET THE ALBUM TRACK PLAYLIST: Youtube // ABOUT THE ALBUM // Released on April 20, 2018, Thievery Corporation's "Treasures from the Temple" is a follow-up LP to the band's chart-topping 2017 album, Temple of I & I. The 12-track compendium includes a trove of original recordings and remixes from the band's Temple sessions at Geejam Studios in Port Antonio, Jamaica with vocal appearances by LouLou Ghelichkhani, Mr. Lif, Sitali, Racquel Jones, Natalia Clavier and Notch.
Get it on
Audio
Live at Robot Heart from Burning Man 2014 9/2/14
Videos
Depth of My Soul ft. Shana Halligan
Take My Soul ft. LouLou
Waiting Too Long ft. Notch
Voyage Libre [Official Music Video]
Thievery Corporation – Thievery Corporation – Unified Tribes ft. Mr. Lif