Bob Weir, Steve Kimock, Lukas Nelson, Wavy Gravy & More Honor John Perry Barlow at private Sweetwater Memorial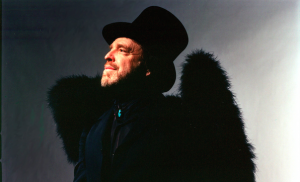 On Sunday there was a notable public celebration at The Fillmore in San Francisco dubbed "John Perry Barlow's Memorial Graduation from Meatspace"which featured guests like Bob Weir, Steve Kimock, Sean Lennon, Wavy Gravy, The Soul Rebels, a recorded speech by Edward Snowden and more. Last night, at Sweetwater Music Hall, friends and family of the late John Perry Barlow gathered in Mill Valley, CA for a more intimate memorial.
"We're on a long endurance run, I feel like, in the celebration of this wonderful man, John Perry Barlow," his daughter Amelia Rose Barlow said at the beginning of the event. Barlow has had multiple memorials in his name in recent days including the Electric Frontier Foundations and the aforementioned celebration at The Filmore, last night's show at Sweetwater Music Hall was intended to celebrate his cowboy roots in Wyoming, his lifelong love for the outdoors, as well as, his home The Bar Cross Ranch.
Throughout the entire event, Barlow images from his entire life shined via a beautiful slideshow. The musical part of the event started with all three of Barlow's daughters singing the song, "I Will Take You Home" a song he wrote with deceased Grateful Dead piano player Brent Mydland. After his daughters' homage
Barlow's longtime friends Bob Weir, Steve Kromer, Jay Lane and Andy Leonard took the stage. Many of the musicians on stage throughout the night told the audience how they met the songwriter and their connection to his ranch.
"Our friend John Perry Barlow was a fairly unique individual. I've been searching for something to say about him and the best I could come up with so far is that he was the guy who had actually learned to embrace the challenges that life has to offer," Weir said.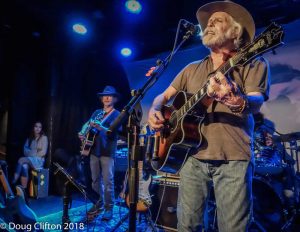 As Weir has mentioned before, during his most recent Cowboy Tour for his solo release "Blue Mountain" he described how Barlow and all those around him while he lived and worked on the ranch taught him "The Cowboy Way." Jerry Joseph, Steve Kimock, Jay Lane and Wally Ingram then played a rendition of Joseph's "Wisconsin Death Trip." The trio also played "Giraffe," before welcoming Bob Weir and Jay Lane to the stage for a new "cowboy" tune we wrote.
Weir then took Joseph's place leading a larger group of musicians including Lukas Nelson, Jerry Harrison of Talking Heads, Kimock and Barlow's daughters to play Talking Heads' "Heaven," which they also performed the night before at the Fillmore. Some other stand out highlights included the Barlow-penned "I Need A Miracle," sung by Harrison, and "Take Me to The River." Lucas Nelson and Weir traded licks on "Feels Like A Stranger," followed by a Jeff Chimenti sit-in on "The Music Never Stopped." Nelson also sang lead vocals on "Estimated Prophet," and Weir went partially acoustic on an emotional "Lost Sailor," before switching back to electric and closing with "Saint of Circumstance." The band encored with a heavy version of "Cassidy" sung by Weir and Barlow's daughters.
Watch the full concert below, courtesy of Sweetwater Music Hall
https://www.facebook.com/SweetH20MusicHall/videos/2010392049025948/
John Perry Barlow Sweetwater Music Hall Photo Gallery