How to Score Lottery Tickets to Springsteen on Broadway
Bruce Springsteen extends his Broadway residency for the 3rd time & adds 81 dates through DECEMBER!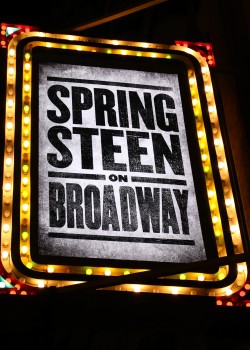 Broadway's hottest ticket just got hotter. We were all 'Born To Run,' but even with a third extension to Bruce's Broadway residency, it seems impossible to score tickets and see The Boss.
After a career of more than 40 years, 20 Grammys and an Oscar, legendary musician Bruce Springsteen comes to Broadway with a solo acoustic performance. It is an intimate night with Bruce, his guitar, a piano, and his stories.   Springsteen on Broadway, a historic solo concert from 20-time Grammy Award-winning rock legend Bruce Springsteen, officially opened on Broadway October 12 to rave reviews from critics.  This means that even more fans will be clamoring to snag a seat at the intimate Walter Kerr Theatre, which seats only 960 people per show, making this Springsteen's most intimate and personal public concert appearance in decades. Here are a few tricks of the trade to increase your chances!
The good news is Springsteen fans don't necessarily have to shell out $850 (and upwards) a ticket to see The Boss on Broadway. Producers of Springsteen on Broadway are making a limited amount of $75 tickets available for nearly every performance of Springsteen on Broadway via a digital ticket lottery. *(A mail-in lottery is also available, see below for details.)
What you need to know:
Become a Verified Fan NOW – find out how HERE
*Pre sale has begun so make sure to be verified and sign up for text alerts. This final residency gives you the biggest shot at getting tickets given the information from Bruce's team below:
"In order to recognize the tremendous number of fans who previously participated but have not had the opportunity to shop for tickets, for this onsale, only fans who previously registered, and have not purchased tickets, will be eligible to receive an invitation to the onsale pre sale." – Bruce Springsteen, Twitter
HOW THE DIGITAL LOTTERY WORKS:
At nearly every performance of Springsteen on Broadway, a limited number of tickets will be made available for $75 each (plus applicable service fees).
The tickets will be distributed via a digital ticket lottery that you can enter up to a week prior to the performance.
Drawings occur 24 hours prior to each show.
The total number of tickets available through the lottery for each show may vary.
Some performances may have no tickets available through the lottery.
You must be 18 years or older to enter the lottery.
Only one entry per person per performance.
Duplicate entries and disposable email addresses will be discarded.
Once tickets are purchased, there are no refunds or exchanges.
Lottery tickets will be void if resold.
ENTER THE LOTTERY HERE: www.luckyseat.com/springsteen-broadway
DETAILS YOU NEED TO KNOW:
The lottery offers 5 performances at a time for you to enter.
Why this is awesome: You can submit your name to be entered into the lottery for multiple performances in the weekly schedule with one single online submission. (You have the option to enter your name for certain show, or only the shows that fit your schedule that week, or select all 5 shows at once.
Digital lottery entry closes at 10 AM ET the day prior to the performance.
Winner and non-winner notifications will be sent via email (as well as text message if you opt in) at 12 PM ET the day prior to the performance, so make sure to check your email and cell phones!
If you win: Tickets must be purchased online with a credit card by 4 PM ET on the day you receive your notification (the day prior to the performance) using the purchase link and unique code that you will be sent via email.
Tickets not claimed by 4 PM ET the day prior to the performance are forfeited.
If you don't win (and feel like splurging – come on, it's The Boss!): You can choose to be texted if regular priced tickets ($200-$875) become available for the performances you selected in your lottery submission.
If you didn't receive any email or text about your lottery results: You can use the result checker which will update at approximately 12 PM ET.
WHERE YOU'LL BE SITTING:
Lottery tickets may have a partial, restricted, and/or obstructed view of the stage.
Seat locations may vary per performance and may be anywhere in the theatre, including in the mezzanine or balcony level, or in the boxes of the theatre, each of which is accessible by stairs only.
Lottery tickets may also be standing room tickets, requiring ticketholders to stand for the duration of the show.
A winner purchasing lottery tickets may not necessarily receive seats that are next to one another, but every effort will be made to seat winning pairs together.
Winners who require accessible seating should contact help@luckyseat.com for assistance.
*YOU CAN ALSO ENTER THE LOTTERY WITH A MAIL-IN SUBMISSION:
Send to: Jujamcyn Theaters, 246 West 44th Street, New York, New York 10036
Attn: Springsteen on Broadway Lottery
Include: The desired performance date and time, and your name, email address, and phone number.
Note: One entrant per letter, which must be received no later than 5 PM ET at least 3 Business Days before the day of the performance. (Business Day is defined as any weekday, excluding any day that is a federal holiday.)