Dead & Company Played their Best Show Ever in Camden
Since 2015, Dead and Company has united a trio of classic Grateful Dead members — Bob Weir, plus drummers Mickey Hart and Bill Kreutzmann — with the relatively young guns of Mayer, Burbridge and keyboard player Jeff Chimenti.
I saw the Friday and Saturday show of Dead & Company in Camden, NJ at BB&T Pavillion. To me, Friday (and the first set of Saturday before the show stopped because of lightning) was by far the best I have seen this band play. They were en fuego. I've probably seen about half the shows Dead & Company have played live. What's so remarkable about the band on night like Friday is the way that Dead and Company lovingly honors the 50-plus-year history of the Grateful Dead while still being unafraid to stand on its own, conjuring something singular out of the sextet's considerable, combustible abilities.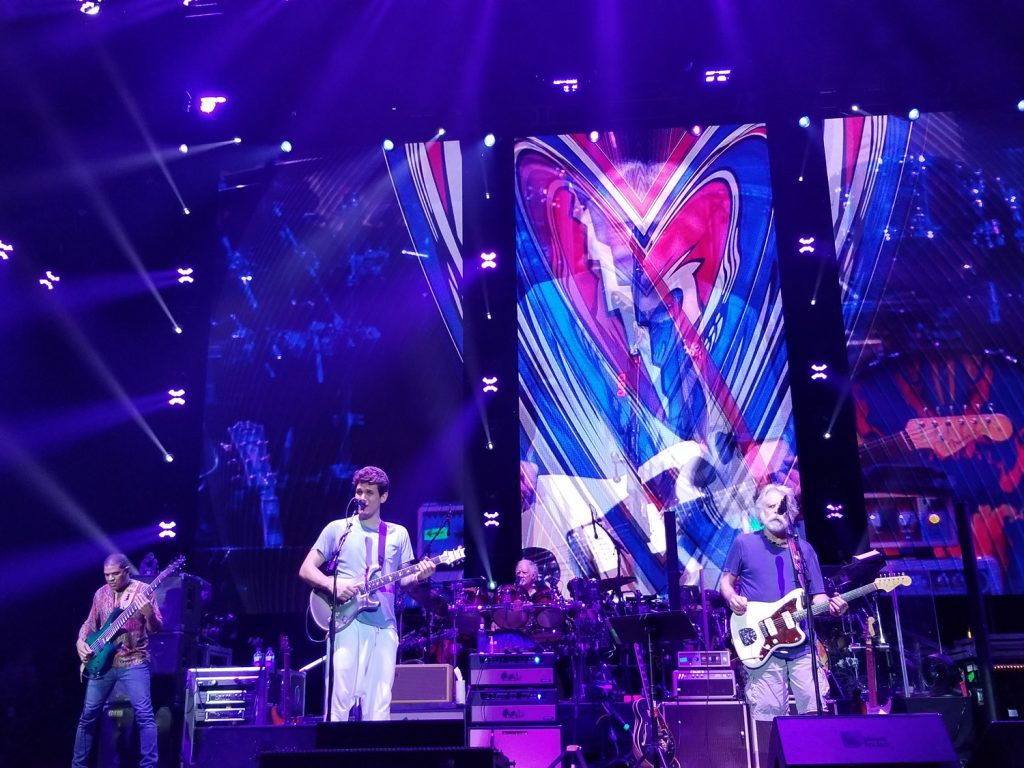 In the Grateful Dead sphere, I have seen some really not nice nor open-minded thoughts on the band and John Mayer including mad jokes written about Dead & Company. For those people, I implore you to listen to the Friday show in Camden. I included a pic of my setlist below and also some pics from the pit.
The first 5 songs Bob Weir played an acoustic guitar; as well, Bob and John played acoustic guitars for Ripple, a seriously heartfelt finale.
Dead & Company opening with the perennial crowd favorites, Jack Straw and Cold Rain and Snow. The band then busted out Deep Ellem Blues (only played 2 other times) and Jack-A-Roe for the first time. Loser followed with a ripping, quiet, yet understated solo from John Mayer, who to me played his best show ever with the band. The unfinished Cassidy (my favorite song in the whole world) was so epic and after the long Cassidy jam before the last verse, the band segued into a completely unexpected and unscripted Jack Straw reprise which the set list did not denote.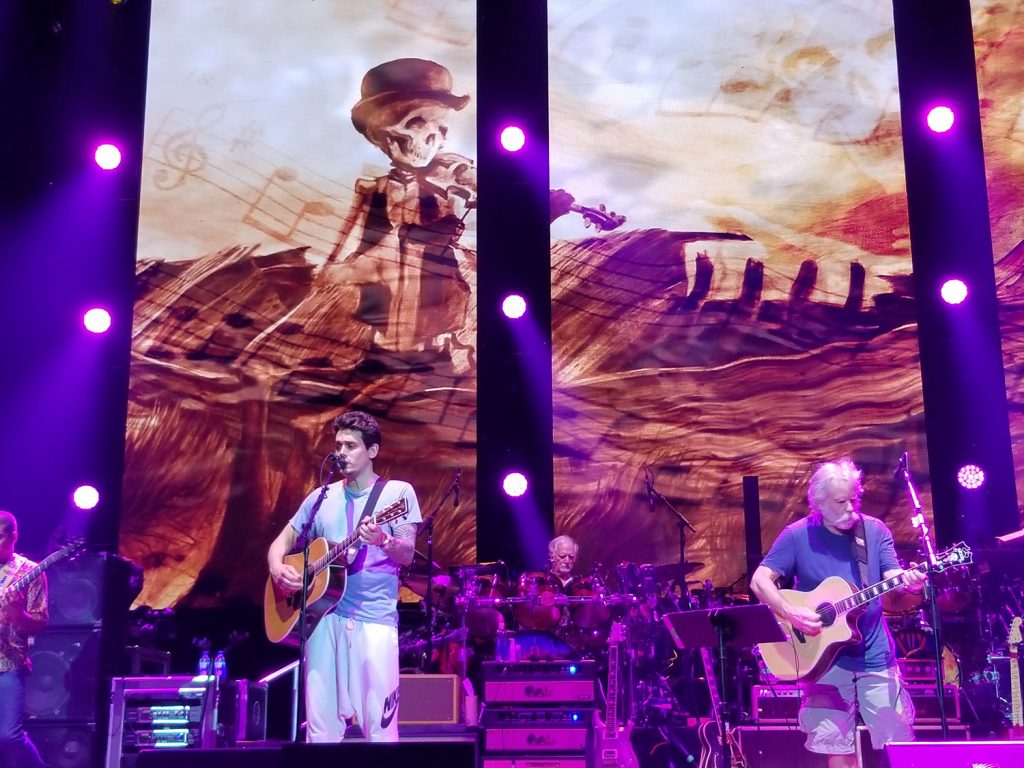 Set two, surprisingly, opened with the first two verses of Buddy Holly's "Not Fade Away," a rocking number typically reserved for later in the night. This felt like a statement of purpose, the band making it clear to the audience and itself that the energy wasn't going to let up all night.  Not Fade Away then faded right into the first verse of Dark Star which they jammed out for almost 20 minutes which surprisingly was jammed into St. Stephen which made the crowd go berserk! Instead of The Eleven, Dead & Company went off script (or setlist) again and played the second verse of a very heady and intricate Dark Star.  Out of Dark Star came the song of the night, Black Muddy River. For all the different opinions on John Mayer, hearing him sing and play this song literally brought me and many others around me to tears. The emotion which seeps out of his delivery of this song would make any hater reconsider their stance on him. Who would think years ago before Dead & Company, that John Mayer would reduce 60-year-old Hells Angels cry?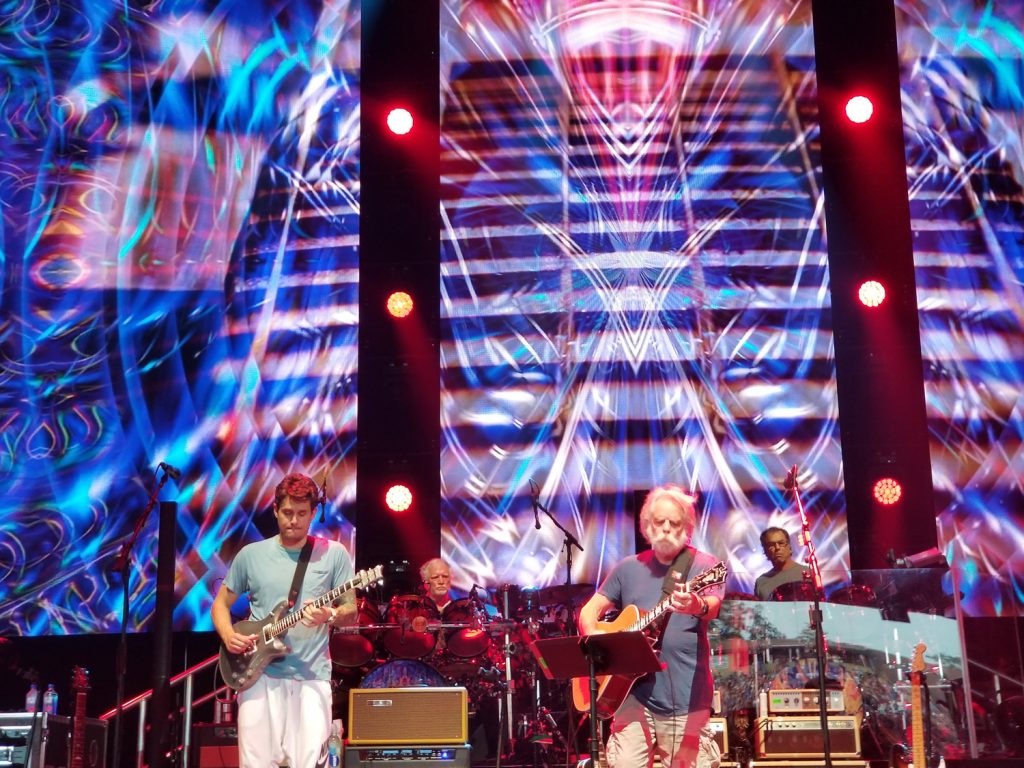 Drums/Space gave the audience a minute to dry their tears and get their emotions under control. Mickey Hart was kicking his beam and playing this awesome loop of a female voice singing over the drummers and the bassist Oteil Burbridge, who stayed out on stage the entire Drums/Space segment. Out of the Space jam came a reggae-infused The Wheel which John Mayer then adlibbed and broke into the Paul Simon favorite Diamonds on the Soles of Her Shoes.  An intense Wharf Rat with Weir singing it with such inflection and Mayer following his lead with a face melting solo followed. The set ended with Not Fade Away third verse or reprise.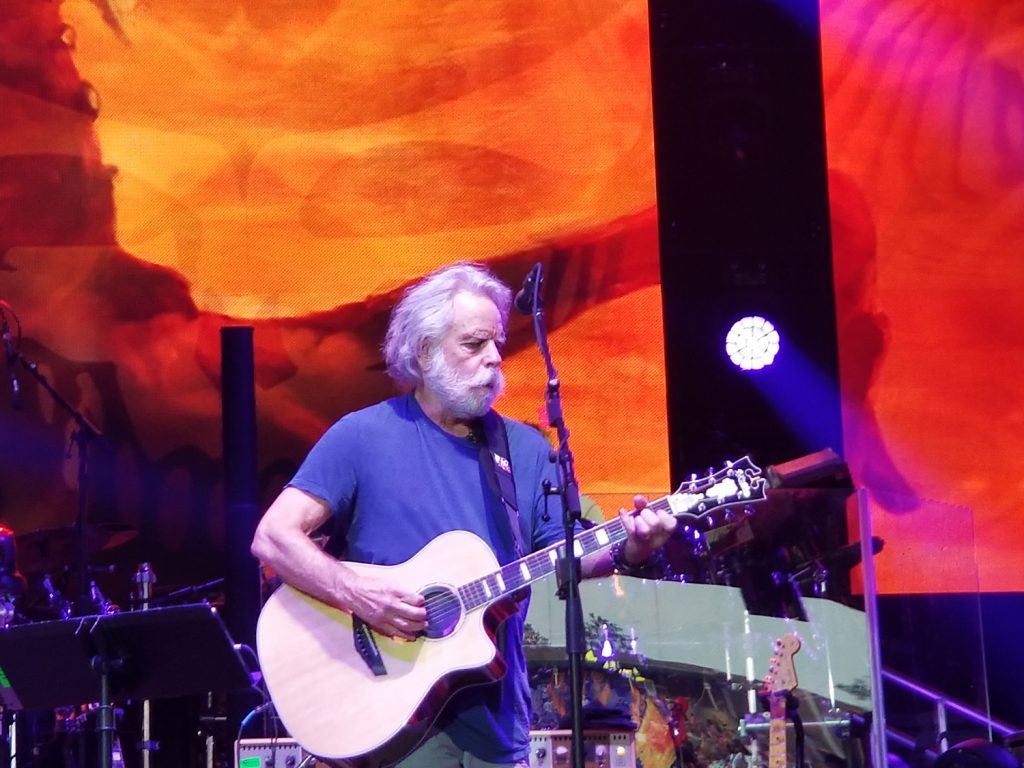 The first Camden concert ended with an acoustic Ripple with both Bob and John playing acoustic guitar with the rest of the band and sharing vocal duties. At one point I screamed out "He's doing it" when John emulated the mandolin portion in the middle of the song when Bob/Jerry sings which usually can only be heard on the original recording on American Beauty "Ripple in still waters. When there is n pebble tossed, Nor wind to blow."
I had a really deep thought during the show..follow me on this. Jerry Garcia was a prankster, right? I feel like John  (like no other lead guitarist I have seen since Jerry passed away) has had the technical talent, emotional IQ and ability to play his guitar even close to as well as Jerry did, and I have seen them all try their hardest.  After Friday night, I honestly believe that Captain Trips, from an otherworldly place, has chosen John Mayer, a person diametrically opposed from Jerry and infused his skills into John Mayer, the pop star and a super good looking lothario as a test to the band and us, the fans, to see how hippie the hippies are. Are we really as open as we claim to be? Are we judging him because of his ex-girlfriend's, his I Dream of Genie pants, his diamond 13 point lightning bolt necklace? Is it possible that we should live the non-judgemental rules of hippiedom and just close our eyes and listen to John Mayer RIP the guitar like I've never seen since Jerry? That is an individual question for each of us who are Dead loving fans. In my mind, we should all give the guy a chance, as he has stirred up all the feels I felt when hearing Jerry live or on tape. Another thing I noticed is that John brings out the best in Bobby. He has been trying new things both on guitar and his singing delivery, especially during the harmonies. It's so great to hear 70-year-old Bobby going for it and changing it up after so many years. In conclusion, I truly believe Jerry sent John Mayer to us as a vessel or conduit for himself.
Set One
Jack Straw
Cold Rain and Snow
Deep Elem Blues
Jack-A-Roe
Loser
Bertha
Cassidy
Jack Straw
Set Two
Not Fade Away
Dark Star
St. Stephen
Black Muddy River
Drums
Space
The Wheel
Diamonds on the Soles of Her Shoes
Wharf Rat
Not Fade Away
Encore
Ripple