Grateful Dead Meet-Up at the Movies 2018 details announced
For the eighth consecutive year, theaters across the country will take part in the Grateful Dead Meet-Up at the Movies, with 500 theaters across the country participating through Fathom's Digital Broadcast Network screening of a classic Dead performance Wednesday, Aug 1.  This summer's event will mark the fifth Grateful Dead Meet-Up at the Movies to feature a concert from 1989.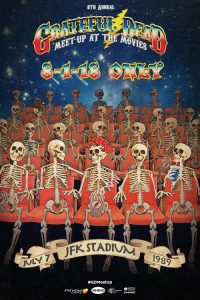 The nationwide gathering this year will take place on August 1, which sadly would have been the 76th birthday of the late Grateful Dead singer/guitarist Jerry Garcia.
This special one-night event will feature the Grateful Dead's July 7, 1989 show at John F. Kennedy Stadium in Philadelphia during the height of the band's late-1980s commercial peak, marking the band's final performance at the venue.
Presented by Fathom Events and Rhino Entertainment, the screening will start at 7 p.m. local time on August 1st nationwide. The event will also include a preview of an upcoming Grateful Dead 2018 limited edition boxed set.
The band helped raze the aging stadium, thundering through first-set tunes "Hell In a Bucket" and "Little Red Rooster," Dead favorites like "Scarlet Begonias," "Fire On the Mountain" and "The Other One" in set two.  Many sitting at the north end of the open-air stadium recall the concrete bleachers trembling during Mickey Hart and Bill Kreutzmann's drum duet in the second set. The band played two Bob Dylan covers, "Stuck Inside of Mobile with the Memphis Blues Again" and a show-closing "Knockin' On Heaven's Door,"  which was the last song ever performed at JFK.
Check out the full setlist and video of the show below.
In the summer of 1989, the Grateful Dead lineup included Garcia, drummers Mickey Hart and Bill Kreutzmann, bassist Phil Lesh, keyboardist Brent Mydland and guitarist Bob Weir.
Don't miss your chance to be a part of this Grateful gathering in movie theatres. Get your front row seats now!
For a full list of theaters and more information, visit https://www.fathomevents.com/events/the-grateful-dead-meet-up-2018.
Grateful Dead
JFK Stadium, Philadelphia, PA
Set I: Hell in a Bucket, Iko Iko, Little Red Rooster, Ramble on Rose, Stuck Inside of Mobile, Loser, Let it Grow, Blow Away
Set II: Box of Rain, Scarlet Begonias, Fire on the Mountain, Estimated Prophet, Standing on the Moon, Drums, The Other One, Wharf Rat, Turn on Your Love Light
Enc: Knockin' On Heaven's Door