Jam Cruise Reveals Initial Rocking 2019 Lineup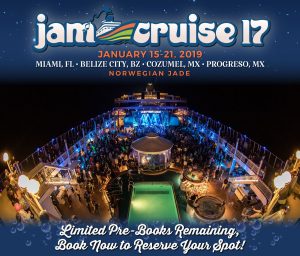 A few weeks ago, Jam Cruise  announced that for only the second time in its history in that it would be expanding to six days and three port stops. Jamcruiser's were very excited when the premier music cruise and destination event announced Jam Cruise 17 will take place from January 15th to 21st in 2019.We will all be returning to the ship we cruised on last year, the  Norwegian Jade,  for stops in Belize City, Belize, and Cozumel and Progreso, Mexico.
Fellow Jamcruiser's have been clamoring and asking questions to figure out exactly who will be the musical talent on the boat. Finally, today, the event has dropped its highly anticipated Jam Cruise 17 lineup, which is headlined by Kamasi Washington, Umphrey's McGee, Galactic, Karl Denson's Tiny Universe  and Hot Tuna Electric with Steve Kimock.
Jamcruise is known for their musically diverse and all-star lineup. Jam Cruise 17 will also see performances by returning artists like Brooklyn funk outfit Turkuaz, Colorado improv band The Motet, legendary ALO (who hasn't been aboard the boat in quite some time), Sister Sparrow & The Dirty for their 2nd year after giving one of the best performances I have seen on Jamcruise in an atrium set, the beer swigging, crowd surfing high energy Andy Frasco & The U.N., my favorite band The Nth Power, soul rocking DJ Soul Sister, TAUK and my favorite improv act conducted by Matt Butler Everyone Orchestra.
Melvin Seals & JGB, Khruangbin, Hot Tuna Electric, Spafford, Birds, SunSquabi and Matador! Soul Sounds, Toubab Krewe and Southern Avenue are among the acts that will make their Jam Cruise debuts aboard JC17.
Jamgrass pioneers Leftover Salmon return to the boat for the first time since 2009, while The Motet, ALO, Turkuaz and Fruition are just some of the Jam Cruise favorites set to play the 2019 installment.
A pair of supergroups: Dragon Smoke and The Cleaners. Dragon Smoke features Eric Lindell along with Ivan Neville of Dumpstaphunk and Galactic's Stanton Moore and Robert Mercurio. The Cleaners, an all-star band put together for this year's Panic En La Playa, includes Eric Krasno, Duane Trucks, Marcus King, Kevin Scott and DeShawn Alexander. Vocalist/trumpeter Jennifer Hartswick has been tapped to lead JC17's Super Jam and the Trey Anistasio Band member will also perform with longtime collaborator and The Nth Power lead singer and guitar player Nick Cassarino. Jam Cruise 17's special guests announced today are trombonist Big Sam, saxophonist Skerik, pedal steel extraordinaire Roosevelt Collier, Elephant Revival's Daniel Rodriguez, multi-instrumentalist and singer Leslie Mendelson and rock guitar prodigy Brandon "Taz" Niederauer.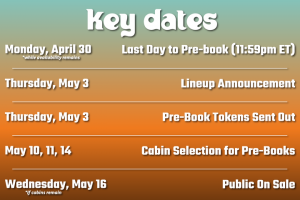 The best parts of Jam Cruise are the late-night jam sessions in the Jam Room, the return of the Jazz Lounge for inventive collaborations and intimate piano sets in the Atrium. Artists will also participate in a series of quirky, curated workshops and activities. Today's announcement also includes news the Brews At Sea, Chefs At Sea and Yoga At Sea programs will return with breweries, guest chefs and daily yoga events featuring live music to be detailed in the months to come. My personal favorite thing about JamCruise is the trip's signature theme nights; couple that with a full artist autograph signings and impromptu performances that have become Jam Cruise traditions. Positive Legacy will be the charitable organization again this year and as always will work with Cloud 9 to present an annual Day Of Service while in port and onboard initiatives that include silent and live auctions for art, signed photographs and instruments. I do this every single year and it ALWAYS is such a cool way to give back and immerse yourself in the culture of the chosen port stop while giving back to the local community with artists that you love.
Those who pre-booked will be able to select a cabin starting on May 10. Any cabins that remain will go on sale to the general public beginning on May 16 at 12 p.m. ET.
For booking and more information, head to JamCruise.com.
Check out the full initial lineup below and stay tuned for additions.