Jerry Garcia Family Members Launch New Independent Music Label
Jerry Garcia Music Arts LLC offers fans free download of 1982 solo acoustic rendition of "Ripple"
Two of the Grateful Dead legend's family members have launched a new independent music label that will focus on Garcia's music and art,  honoring what would have been Jerry Garcia's 76th birthday.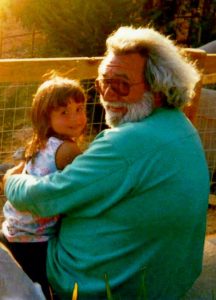 As part of the founding  Jerry Garcia's ex-wife Manasha Garcia and daughter Keelin Garcia, as part of the founding  Jerry Garcia Music Arts LLC,  have offered a free download of a performance of "Ripple" recorded during Garcia's famed 1982 solo acoustic performance at Passaic, New Jersey's Capitol Theatre. This performance was the only one-man show Jerry Garcia staged during his tenure with the Grateful Dead and Jerry Garcia Band.
In 1982, legendary East Coast concert promoter John Scher talked Jerry Garcia into doing two completely acoustic solo shows. It would be just Jerry and his acoustic guitar on the stage.
Garcia had never done a solo show before and he wasn't really up for it nor looking forward to it. But in the end, he relented. The solo paycheck was appealing and the challenge intriguing.
John Scher got his two, same-day acoustic solo gigs from Jerry on April 10, 1982, at the Capitol Theatre in Passaic, NJ.
Although Garcia said he wouldn't do it again (true to his word, he never did), the result was impressive nonetheless. See for yourself
The "Ripple" recording is newly remastered by audio engineer Joe Gastwirt. A limited 2,500 free downloads will soon be made available on most digital music services.
Additionally, Jerry Garcia Music Arts LLC is offering up a limited edition museum quality giclee of Garcia's watercolor painting titled "Ripple." The giclees go on sale at Terrapin Stationers onAugust 3rd. A portion of the proceeds from the "Ripple" art piece will support ocean preservation, Jerry Garcia Music Arts LLC added.
Sign up to get the next live stream concert in your inbox!