Moogfest 2018 May 17-20 Durham, NC
Hip-Hop Legends Pete Rock and Ali Shaheed Muhammad Join Moses Sumney in Moogfest's Final 2018 Lineup Additions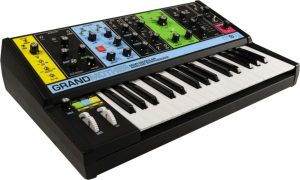 Moogfest began in 2004, marking the 50-year anniversary of Bob Moog's first homemade Theremin. It started as a one-night party in New York City for Moog friends and musical collaborators before growing organically into a semiannual celebration of Bob Moog's work and his community of synth enthusiasts. In 2010, Moogfest moved to Asheville and adopted a multi-venue festival format for electronic music, including a wide range of artists influenced by the analog synthesizer.
By 2014, the popularity of electronic music in America and the global explosion of festivals created a different context for Moogfest: no longer was the music festival a sufficient platform for experimentation and conversation. To complement the nighttime performances, a technology conference was added to the program, bridging the divide between engineering and artistry.
Today, Moogfest reimagines the typical music festival and tech conference by taking the best of both formats. Though the festival is grounded in North Carolina, it is a wholly international community that convenes at Moogfest annually.  Moogfest is reaffirming its commitment to all-inclusive lineups through the announcement of a partial 2018 lineup with Chelsea Manning as the keynote speaker. The impressive list of musical talent includes LCD Soundsystem's Gavin Rayna Russom, Fatima Al Qadiri, SOPHIE, Discwoman's Umfang and DJ Haram, Jenny Hval, Kaitlyn Aurelia Smith, the US debut of Midori Takada, and many more.
Robert Moog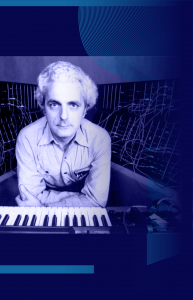 Robert "Bob" Moog (1934 – 2005) was an American pioneer in electronic music. Robert "Bob" Moog (1934–2005) was an American pioneer in electronic music. He started building and selling Theremins at age 16 to pay his way through college and graduate school, where he studied electrical engineering and engineering physics. Bob went on to receive degrees from Columbia University, Cornell University, and the Berklee College of Music while dedicating his engineering ingenuity to developing creative tools for artists.
Bob collaborated with the greatest minds of his time and inspired many others, counting among his colleagues early synth pioneers like Don Buchla, Herb Deutsch, and Ray Kurzweil, while his creative peers run the gamut from John Cage to Stevie Wonder. His career in instrument design has been honored with two Grammys: a lifetime achievement award and a Special Merit/Technical award.
In 1978, Bob moved to North Carolina from New York, seeking a different point of view on electronic music. The perspective he gained ignited the business that still carries his name. Today, Moog Music is an employee-owned company dedicated to Bob's legacy: lovingly manufacturing electronic musical instruments by hand in downtown Asheville, N.C.
Moogfest announces the final pieces to its 2018 festival with the addition of its free stage, located in the heart of downtown Durham's American Tobacco Campus, plus the addition of Michael Stipe and Aminatou Sow to its conversation programming. This free ATC stage opens on Saturday, May 19 and is co-presented with the support of WRAL.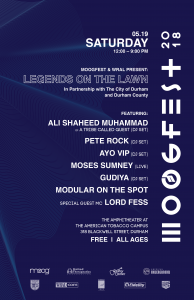 Leading Saturday's addition are legendary hip-hop DJs and producers Pete Rock (Pete Rock & CL Smooth) and Ali Shaheed Muhammad (A Tribe Called Quest), plus a full-band performance by indie-soul singer-songwriter Moses Sumney, who returns to Moogfest for the second time. Sumney will also join the Producer & Songwriters Masterclass alongside Alexandre Bazin, Gareth Jones, and Valgeir Sigurðsson.
Saturday afternoon will open with Moogfest's much-beloved Modular on the Spot Picnic, an outdoor modular synth performance started in Los Angeles by modular synthesist and skate photographer Eric "Rodent" Cheslak with bassist Bana Haffar. This year's three-hour picnic offers a laid-back, family-friendly listening environment for a mind-expanding exploration of electronic sound, transitioning into a more upbeat affair as the day progresses. The Modular on the Spot Picnic will feature a rotating cast of performers that includes Cheslak himself, along with Lightbath, Pete Speer, Jake Pugh, Lee Coleman, Jerry Kaba, and previously announced performer and daytime presenter Sarah Belle Reid.
New Conversation Additions
As previously announced, Michael Stipe's audio-visual installation Thibault Dance will be featured in downtown Durham. Now the artist himself will return to Moogfest as well for a conversation on Saturday at 5 p.m. (ET) in the Carolina Theatre to offer insight on his current audio-visual work and his creative focus in the post-R.E.M. era.
Additionally, noted writer, podcast host, and Forbes "30 Under 30" recipient Aminatou Sow joins Chelsea Manning for the privacy activist's Saturday keynote on the future of creativity. Manning and Sow will discuss how creative frontiers will evolve as privacy laws change in an expanding digital landscape in what will be an enlightening, eye-opening keynote.
Moogfest 2018 Free Programming Roundup
Moogfest brings dozens of electronic artists to play at local venues and also schedules educational daytime programming, much of it free and open to the public.  Kelela is headlining and appearing for an afternoon talk. Jenny Hval will discuss what performance means to her and invite attendees to bring found sounds to a talk before her live set. Umfang, the DJ and cofounder of electronic music collective and booking agency Discwoman, will host a vinyl DJ 101 session. Norwegian duo Smerz will instruct on using melody and vocals in electronic music. Male artists like Jon Hopkins and KRS-One will be there, too. But Moogfest marks a rare lineup of fewer male than female and gender non-conforming musicians. The festival's mix of musical performances and technical skill-sharing is a tribute to Bob Moog, an engineer whose synthesizers have shaped decades of music, from Donna Summer to Nine Inch Nails to New Order.
The ATC Stage announcement accompanies Moogfest's previously released free programming that includes Ralph Steadman's Harmon-INK! exhibit; Michael Stipe's Thibault Dance installation;  the Modular Marketplace; the Moog Store and Moog Pop-Up Factory, which will be building the just-announced Moog Grandmother synth onsite; Vorticity, a collaborative sonified data installation between Nokia Bell Labs and Delta Sound Labs; Frivolous Artist: More Metal, a tactile, interactive live score piece by Wild Actions; Moritz Simon Geist's robotics installation Soft Manipulator; the immersive environmental sculpture Infinity: Algorithmic Soundscapes from Magnetic Energy; a Moogfest poster and synth art exhibition; and the Reverb LP Record Fair.
Ticket Information:
All ticket types below are available for purchase now HERE.
Single Day Passes Available 
Individual Thursday, Friday, and Saturday passes to Moogfest 2018 can be purchased starting today with limited quantities available. Each pass is $99 plus fees and provides General Admission access to all events taking place on that particular day, spanning both daytime and nighttime events. Day passes can be purchased here.
Engineer Festival Pass – $1500 (limited quantity)
This two-day synth-building workshop, led by Moog engineers, invites a select group of enthusiasts to build their very own unreleased Moog analog synthesizer. The workshop is conducted in two, multi-hour sessions. No experience necessary, but basic soldering knowledge is recommended. Participants in the Engineering workshop also receive priority access to select festival venues, exclusive events and gift bag. Workshops are available via capacity-limited RSVP. Engineer Festival Pass holders receive first priority selection on a limited basis. Engineer Festival Passes available for a limited time, while supplies last. Scheduling of Engineer Workshops are prioritized by the order of purchase.
Buy here
VIP Festival Pass – $499 (limited quantity) 
VIP access for the duration of the event.  Priority access to all festival venues for performances and conference programming, a private VIP lounge, complimentary food and drink, exclusive VIP events, and a dedicated gift bag. Workshops are available via RSVP. VIP Festival Pass holders will receive first priority on a limited basis.
Buy here
Festival Pass – $249
General Admission for the duration of the event. Access to all festival venues for performances and conference programming: conversations, workshops, and installations. Workshops are available via RSVP. VIP Festival Pass holders will receive first priority on a limited basis.
Buy here
Payment plans are also available. Simply select 'Monthly Payments with Affirm' as your payment method during checkout. More details are available here.
Moogfest 2018 – Durham, N.C., May 17-20
Amber Mark 
Annie Hart
Armen Ra
Aurora Halal
Bonaventure
Carla Dal Forno
Caterina Barbieri
DJ HARAM
Ellen Allien
Emily Sprague
Fatima Al Qadiri
Fawkes
Gavin Rayna Russom
Helen Money
Honey Dijon
Jamila Woods
Jenny Hval
Kaitlyn Aurelia Smith
Karyyn
Katie Gately
Kristin Kontrol
Kyoka
Lawrence Rothman
Madame Gandhi
Maliibu Mitch
Midori Takada
Nadia Sirota
Nicole Mitchell
Noncompliant
Pamelia Stickney
Sassy Black
Shanti Celeste
SOPHIE
Stud1nt
Umfang
Upper Glossa
Moogfest is the synthesis of music, art and technology.
Our Mission: To grow a global community of futurists who explore emerging sound technologies and design radical instruments for change.