Neil Young Announces 5 Shows With Crazy Horse & Confirms Band Lineup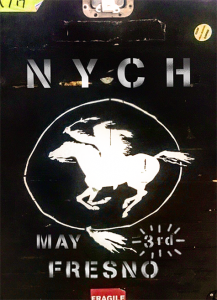 Last week, Neil Young and Crazy Horse announced its first set of concert dates in four years. Then a day later​, they​ announced a few more.
Following hints about a lengthier Crazy Horse reunion, Neil Young has confirmed five shows in California spanning through the first week of May. These are the first set of concert dates in four years.
In a statement posted to his archival fan website, Young confirmed the band's lineup – Billy Talbot on bass, Ralph Molina on drums and Nils Lofgren on guitar – and describes the reunion as the "beginning of another beautiful chapter in our long, enriching and life-changing Crazy Horse story." The songwriter also notes that the band's setlists will dip into the Crazy Horse back catalog ("I have no new [songs], but maybe tomorrow they will come").
Nils Lofgren, the guitarist, is a longtime Young & Crazy Horse collaborator who currently plays with Bruce Springsteen's E Street Band.
The great news is I am jumping back in with #CrazyHorse @Neilyoung I will be there . Beyond honored. Nothing like playing with old friends. A friend just reminded me, at this age you can't coast. https://t.co/JO9CZZFzi5

— Nils Lofgren (@nilslofgren) April 24, 2018
He will replace prior Crazy Horse guitarist Frank "Poncho" Sampedro. In a newsletter post to fans, Young wrote that Sampedro was "unable to join us right now," while expressing hope the guitarist would return to the band at some point.
Crazy Horse will perform at Fresno, California's Warriors Center from May 1-3, followed by a May 5-6 stint at The Fox Theatre in Bakersfield, California. That show will feature Jonathan Richman as an opening act.
Presale tickets for the Bakersfield shows are now available for the 5th and 6th with the code "nyarchives".
Tickets for the Fresno shows are available here.
Lest hardcore fans miss the excitement, the whole thing will be live streamed on the website Neil Young Archives. According to a post on the site, fans can watch as the band takes the Warnors Theatre stage for its May 1 show.
Read Young's full statement below on these 5 shows:
In Fresno California, Crazy Horse will return to the stage. Billy Talbot, Ralph Molina, Nils Lofgren and I will be playing for you in the Warnors Theater May 1 and 2 [Editor's note: Young has since added a third show]. Also, we are stoked to have Jonathan Richman, featuring Tommy Larkins on the drums, playing before us.
We are all excited to play together again. Nils being back in the group really lets us do a lot. We are all very ready to get on the boards.
Life is an unfolding saga. A few months ago we started talking about playing some remote clubs and getting our feet wet again. Poncho is unable to join us right now, but we all hope he will be back. Now Nils is with us again! Nils was an original member of Crazy Horse along with Jack Nietsche [sic] and Danny Whitten, playing on Crazy Horse's first album.
NYA's latest archival release, ROXY: Tonight's The Night Live, features Nils and the late Ben Keith, another true original, playing with Billy, Ralphie and I as we opened the ROXY in LA, a short 45 years ago in 1973.
We are stoked to be playing all of our songs again! I have no new ones, but maybe tomorrow they will come. They always do and I am so thankful for that. Come and see us if you can as we approach our 50th year as a band. I think it will be the beginning of another beautiful chapter in our long, enriching and life-changing Crazy Horse story.
Stay tuned to NYA, Home of the Horse, for more news and updates.
NY
Stream the Neil Young & Crazy Horse Jambase live Spotify Playlist below: