Phil Lesh Appears as Largest Donor to Dr. Christine Blasey Ford's GoFundMe
On Thursday, the nation was glued to Christine Blasey Ford's powerful testimony in front of the Senate Judiciary Committee and many viewers who tuned in immediately showed their support by opening their wallets via GoFundMe.
For those people who do not consume the news via the endless 24-hour news cycle, earlier this month, Stanford University professor Dr. Ford accused Supreme Court nominee Brett Kavanaugh of attempted rape in the early '80s. After stepping forward, she has become a lightning rod for liberals and conservatives all over America.
Discussing her polygraph and legal fees during the hearing, the research psychologist and professor at Palo Alto University said, "I'm aware that there's been several GoFundMe sites that I haven't had a chance to figure out how to manage those because I've never had one done for me."
Rachel Mitchell, the longtime Arizona sex crimes prosecutor hired by Senate Republicans to lead the questioning, asked for clarification, prompting Ford to say, "GoFundMe sites that have raised money, primarily for our security detail. So I'm not even quite sure how to collect that money or — and how to distribute it yet. I haven't been able to focus on that."
Those comments led to more than $200,000 in donations to the "Help Christine Blasey Ford" campaign, which the New York Times noted Thursday is "more money than it had gained in the past eight days."
Clearly, tons of donations have been flooding in; however, the top donor still appears to be none other than Grateful Dead bass player, Phil Lesh.
It seems that before her testimony, on September 27th that Phil Lesh (or at least a philanthropic, unnamed Deadhead favorable to the beloved Phil Lesh) donated $10,000 to the Bay Area family of Dr. Blasey Ford, pre-testimony on September 23rd.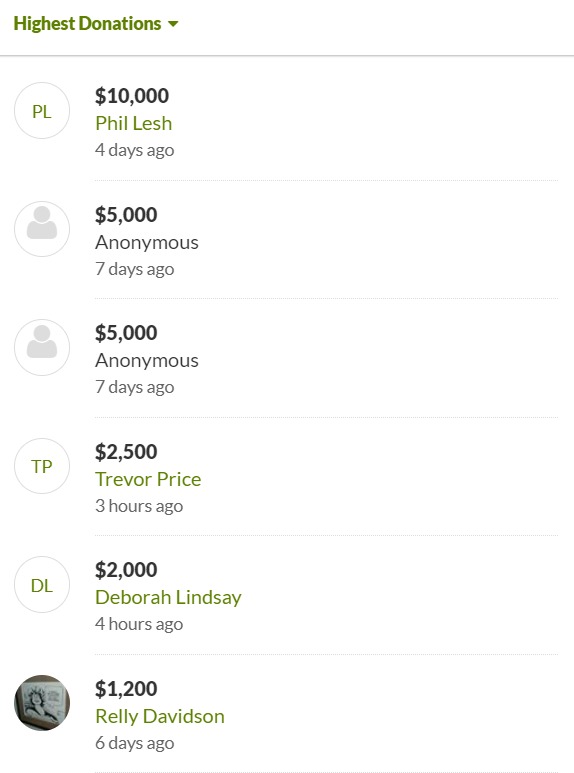 Sign up to get the next live stream concert in your inbox!