Phish Returns to Mexico in February 2019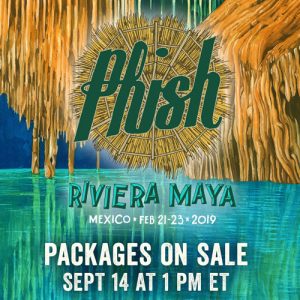 Phish, in conjunction with CID Presents, has just announced the return of their 4-night all-inclusive Caribbean concert vacation in Riviera Maya, Mexico – February 21-23, 2019 dubbed Revenge of the Return of Phish: Riviera Maya. The band will play on the beach for 3 nights of Phish in one of the most beautiful parts of the world (according to Beautiful Parts of the World Magazine). You will be able to see your favorite band on the beach at a seaside stage, providing an incredible backdrop for these intimate shows, just a few feet from the ocean. The Riviera Maya is a famous section of coastline along Mexico's Yucatan Peninsula, stretching from Puerto Morales in the North, to Tulum in the South; surrounded by the crystal blue waters of the Caribbean Sea
The concerts will take place at the Barceló Maya Beach, an all-inclusive resort sits on a mile-long stretch of pristine white sandy beach which features breathtaking landscapes and pools scattered throughout the property. Rooms are available at the Barceló;  in addition, Phish has hand-selected six of the region's finest resorts for the 2019 fiesta. Each resort offers a variety of restaurants, multiple bars and daily activities, all included in your package price.
A number of off-site adventures are also available throughout the weekend for those who want to get the most out of the Riviera Maya's natural beauty and rugged terrain during their vacation. Some of the adventures include golf trips, exploring the nearby town of Tulum or checking out the majestic Mayan pyramids at Chichen Itza, declared as one of the 7 Wonders of the World (by Wonders of the World Magazine).
Each night, guests staying at the Barcelo Maya will take a short stroll to the beach stage to see Phish. If you choose to stay at one of the other properties, a private shuttle will deliver you within feet of the concert venue. Once inside, guests can choose from an assortment of complimentary beverages and traditional fare. Packages start at $1,713 per person and include 4 or 5 all-inclusive resort nights, admission into Playa Azul (the event's one of a kind venue), roundtrip airport transportation and exclusive Phish: Riviera Maya merch packs.
A limited amount of all-inclusive packages will be available at 1 PM on Friday, September 14th. For more information and package details, please visit: https://www.phishrivieramaya.com/
Sign up to get the next live stream concert in your inbox!