Sunshine (Garcia) Becker Talks 96th Anniversary of The Warfield
Sunshine (Garcia) Becker Talk 96th Anniversary of The Warfield, joining Melvin Seals & JGB, JamCruise and Jerry Garcia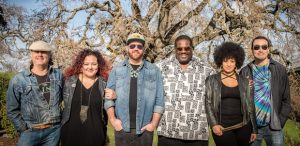 This weekend Melvin Seals and JGB are playing a special show Celebrating the 96th Anniversary of The Warfield Theater in San Francisco along with Very Special Guests Oteil Burbridge, Stanley Jordan, Dave Ellis, Jackie LaBranch, Gloria Jones and Rodney Holmes on Saturday, May  5th. Additionally, Sunshine (Garcia) Becker is playing a solo band show, Sunshine Garcia Band at Terrapin Crossroads in San Raefael, CA, Sunday May 6th.   Fangeist  and Amy Sheridan caught up with Sunshine (Garcia) Becker this week between practice for her big shows this weekend to talk about joining Melvin Seals and JGB, playing  with a living legend like Melvin Seals, her band mates, seeing Jerry Garcia and The Grateful Dead, the songs, the audiences, the constant Furthur reunion rumors and the loss of Chris Charucki.
Congratulations on your new gig with Melvin Seals and JGB. From the sound of the hype, it seems that your first Spring Tour went excellent and the newer, fresher Melvin Seals & JGB line up has gotten such rave reviews. I saw this week that your band got booked on Jam Cruise for the first time which is SUPER exciting. You are the virgin band I am most excited about hearing play my favorite musical get together of the year.
Hi Amy – yes the Jam Cruise announcement created quite a stir of excitement. I have heard so many stories about the jams that take place on the boat, and also the tight group of folks that are the jam cruise family – I can't wait to be a part of that! I know that Everyone Orchestra is a boat tradition too and EO and Matt Butler are one of my favorite gems in this scene because of the 100% improvisational element, I hope to be a part of that come January.
Sunshine tell me a bit about the musicians in Melvin Seals and JGB, what instruments they play, where are they from and any other notable things about your bandmates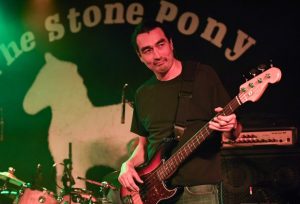 John-Paul McLean plays the bass for Melvin and JGB. We really have gotten along well both personally and musically. John-Paul went to Berklee Schools of Music, so I absolutely love chopping it up with him about music theory. He went to college to study music theory while I am a person that comes at it in a more innate way since I sing more by ear. It has been great talking about music theory with him and both of us approaching it from our separate corners to come to the same place and understanding.  Lady Chi is my partner in crime! She brings a true soprano sound which It is so great for me because I don't have to pretend I am a soprano and I can sing in my natural alto/tenor range. I think we have been working together really well! She brings a whole other side which is cool. She comes from a background in Jazz and is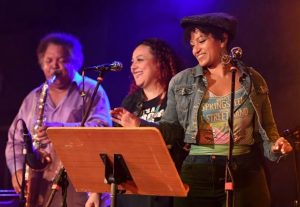 from the P-Funk family and worked with Con Brio previous to Melvin. It has been great getting to know her and harmonize with her. We, also, have Pete Lavezzoli who I have known from the SF Dead scene for many years, and we played in Crazy Fingers in FL together one time that I'll never forget, after a Furthur show in Boca Raton.  It is great to have him back there keeping the beat tried and true. Pete has been seeing the Dead and Jerry since the early 80s so it's nice to have a person, like Melvin, that got to witness a few decades of seeing Jerry/Grateful Dead and honoring and understanding the nuance of the music so well. And then we have Mr. Zach Nugent who is from Vermont…"this kid" which is what I call him. I have other nicknames for him, too. Every time we walk into sound check he seems to have a new variation of my nickname to call me. Anyway, He plays the Jerry Garcia role both singing and raging the guitar. He was only 5 years old when Jerry passed away but somehow he got it! He got the thing…that je ne sais quoi. His parents raised him in this music and it STUCK: not just the drive to learn how to play it, but to capture the magic. He wants and cares so much about keeping this music alive and honoring this hallowed music and singing it in a way that inspires people, which keep people coming to the show. I will tell you his parents are amazing people because they have embedded in him such a love of music. Not even just the Jerry Garcia music. We spend time driving on the road and this guy knows all the best roots reggae that I don't even know. He and I are both so aware that we are lucky and blessed to be playing with a living legend that is Melvin Seals. That feeling of being blessed to do what we do with Melvin is not lost on either of us.
I think one of the assets of your band is the fact that you are all from a slightly different generation and that you all are not the same age.
Though there is a bit of an age difference in the band, we all really push each other musically which keeps performing and playing in this band exciting. This band is multi-generational which I think is really an asset. We are also very multi-cultural, which inevitably is going to show up here in there in how we play. Melvin is at a point in his career and sort of finds himself reluctantly having to be the band leader. Melvin by nature is a hired gun or side man and he will tell you that himself. He was sort of forced into being the leader of this band.
Sort of like Jerry Garcia in the Grateful Dead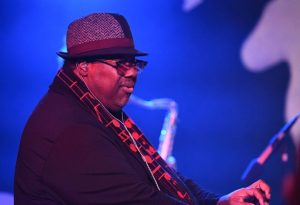 Yes, Very similar to that, the reluctant leader. He has been forced to make these decisions and I think right now, I think at this point in time and in his career that he sees where the scene and the music is evolving and going and it's saying to him "Let's try something new!" Let's open up the doors to this next generation of…not only musicians but fans! It's scary to take that risk… to have hired myself and Lady Chi was a really big step for him that took months and months of making that decision. The one thing about Melvin is he is very honest and we are able to talk as a band very straight up with each other about decisions and his vision about new things he is trying to do which if you break it down is really all about serving this music and the magic that started with Jerry Garcia, which is exactly why Garcia chose Melvin, in a sense, to be the keeper of the flame. What I think he is seeing, as of late, is that you don't have to play this music exactly like they played it with Garcia so many years ago in the 1970s, 80s and 90s. You can play it in a different way, as long as everyone is really putting out their best and trying to create that THING that MAGIC that we all go to the shows for.
So tell me about the history of the band and especially about Melvin's original history with Jerry?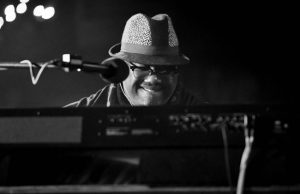 Well I have heard a little bit of the story about how Melvin got the audition with the Jerry Garcia Band. From what I understand, Melvin was playing with someone else that knew Jerry on a different project. That person said 'Melvin you would be a great fit for Jerry.' At that point Melvin really didn't know what he was walking into but he just went in and started playing some of the favorite Motown songs like "Second That Emotion" which Jerry loved and before either of them even left that day, Jerry told Melvin "OK man, you are in the band!" Melvin told me he didn't even know who Jerry Garcia was or who the Grateful Dead were until after that day he auditioned. He came to find out that Jerry wanted to have his own project which he could choose the music for exclusively.
Did you ever see Jerry Garcia Band?
Yes I did! Actually, I went to http://www.jerrygarcia.com after I got the Melvin gig I went back and counted how many times I saw Jerry Garcia Band. I saw them 68 times. All of these shows were in California, most in San Francisco. Most of them were at The Warfield. I, also, figured out that I saw The Grateful Dead about 63 times so I wound up seeing Jerry Garcia Band more times than I saw The Dead in the 3 short years I followed the Dead and Jerry before his passing.
I know Melvin Seals and JGB has a huge gig at The Warfield Theatre this weekend in San Francisco. Seeing that you are an SF based band you will be on your home turf. Who is playing that show and what will the format be like.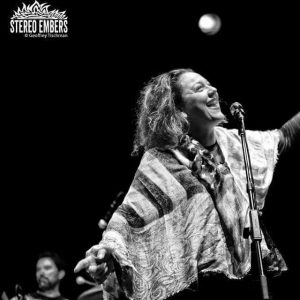 This is my first time performing at The Warfield! We are so excited to be celebrating the 96th Anniversary of The Warfield Theater along with Very Special Guests Oteil Burbridge, Stanley Jordan, Dave Ellis, Jackie La Branch, Gloria Jones and Rodney Holmes. I am honored and humbled to be playing with the original Jerry Garcia Band backup singers Gloria and Jackie. In rehearsals, hearing and watching them with Melvin and the stellar cast brought it all home, goose bumps, tears and all; I know the audience is coming ready for that. Really, Melvin is the curator of this entire event and he really wanted to create something special. The evening's opening set will be a tribute to the man himself, Jerry Garcia, whom played there over 100 times. He brought together, Oteil, Stanley Jordan, Melvin and the saxophone player Dave Ellis. We will all be singing and playing together for the first set deadicated to Jerry. Then for the second and third sets I think the folks at The Warfield actually picked out their favorite show from March 5th 1988 which Jerry played at The Warfield Theater doing a Jerry Garcia Band show that we will work to recreate. I mean Jerry played hundreds of shows there so this show must have been a very special one to them. There is one song on the set list that I have been working super hard on. I just can't believe how lucky and blessed I am to be able to sing that song, with these musicians on that stage. I'm very excited.
This is the perfect segway into I know some of the songs are new for you. I also noticed that your band is sprinkling some GD songs are integrated into your set, which I love. How intense is it singing these churches-like songs Jerry Garcia loved like "Gomorrah" and "I'll Be With Thee."
It's the best part. It's the most rewarding part, when after months of studying, rehearsing and most importantly listening; we create a spiritual moment in the music. I think I cry a little every time we play Gomorrah. Certainly the first time I performed it with the band at Hopmonk in Novato, looking out at my big brother Sean, who took me to all those Garcia Band shows, I was all tears and goosies.
Yes, Melvin has put a few Dead songs on our set lists and it's been so much fun to hear this line-up play those songs, and I mean, how lucky are we to hear Melvin take a keys solo on Eyes of the World or Scarlet Begonias? That's where we've landed now in the scene, and it's wonderful. Melvin has allowed me to step out and embrace some vocal improvisation on some of these songs, which means a lot that he trusts me to go there, with nothing planned, and most times, we as a band create something really cool. Sometimes it doesn't quite gel, but it's all part of the process and we are doing it in front of the very best audience. I, personally, think the more that these songs can be played by folks who were in Jerry's circle and were tapped into his artistry, the better. Pass that gift onto to listeners who will become the next generation who will carry the torch and the music on.
The Jerry Garcia Band songs to me represented something akin to Jerry's personal Spotify list or choices on an early version of a mix tape. Even thinking about how very personal these songs are reveals a lot about Jerry just by the simple fact he chose them
Yes, from both sides of the circle – the audience and the band. It is known and very clearly that these are songs that Jerry loved to play.
I would love to hear about your Sunshine Garcia Band brunch show at Terrapin Crossroads on Sunday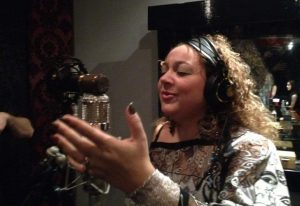 The folks at Terrapin reached out to me and everything just aligned so that I was able to book a Sunshine Garcia Band solo show, kind of an "after glow" to the Warfield this Sunday at Phil Lesh's Terrapin Crossroads.  I've sat in at the Grate Room before and I have also been to the bar/restaurant several times; however, I haven't played a show at Terrapin Crossroads for over 4 years so I am excited and grateful to come back with my Solo Project, the Sunshine Garcia Band. Definitely some nostalgia in those walls from the first rehearsal shows for Furthur when the place was called the Seafood Peddler and then the shows we did there in Furthur right before my birthday that year. So, I called Greg Anton, a great drummer from one of my other most favorite bands, Zero, and he obliged, so I am lucky girl. Zach Nugent and his playing partner from New York Daniel Marc will get down on guitar and vocals, and John-Paul Mclean, who's now playing all around with the bay area gem the Rock Collection, will rock the bass, and I've invited some special guests that I hope to stop by. I'm calling the show "Jehovah's Favorite Choir" because I wanted to choose songs that all fall into that inspirational, life giving energy category. I want to fill up hearts while the Terrapin Brunch kitchen will fill up everyone's belly with great food and that will wrap up quite a weekend. Then, believe it or not, I'll go back to being a PTA mom next week – its teacher appreciation week at my son's school and I'm in charging of putting on a fiesta luncheon for all of them!
I noticed when I saw Melvin Seals & JGB at The Rock N Roll Resort there was a good amount of female energy up there! I don't always feel that way in the Jam Scene or The Grateful Dead scene. Tell me about your overall feelings about women in the music industry? Work life balance? Who do you look up to? Who do you want to collaborate with? 
Well, there just simply aren't enough of us women in Rock n' Roll but slowly, it's getting a little better. Being able to meet such solid and talented musicians like Susan Tedeschi, who is a touring Mom, and now Grace Potter who just became a mother, is inspiring sometimes it can feel like you are the only one trying to pull off what can seem like the impossible-giving your every ounce of love to raise your children and giving all of yourself when you are onstage.  At The Rock n Roll Resort, we performed "I'll Be With Thee" and I remember looking out and seeing a bit more women in the audience there, I recall one woman that was dressed up as a butterfly… so I think maybe it's an audience vibe thing: we feel that energy and it feeds us and then nourishes the music were making in the moment.
I have to say people are ALWAYS clamoring about a Furthur Reunion. I am sure you hear it too! Is there any chance that may happen? 
Oh, the reunion talk… Yes, I get asked a lot by fans about a Furthur reunion and folks post things and send me messages all the time. What I want to tell everyone that has expressed how much they "Loved Furthur, and "miss the band" is how much it means to me that I was a part of the group that  lit, or in many cases, re-lit the fire in them for the scene and the music. I get it. The love was there, without a lot of the hang ups. It lit me up, too!  Man, some of those St. Stephens' we did, hitting' on all cylinders, woo hoo! I remember one at Madison Square Garden that literally blew my high heels off. So, it makes me happy to hear that so many people appreciated all those shows, but I digress… as far as the question about whether  a reunion will happen, the truth is, I can't answer that. Furthur was Phil and Bob's band; they are the Chiefs of that, so they would make that decision. I was reminded recently that we technically are on a "hiatus" still, we never officially split up I guess (laughing) so anything is possible.
There have sadly been quite a few deaths in the past few months of very key people in the Grateful Dead sphere like John Perry Barlow and Chris Charucki. Do you have any memories of either of them you would be willing to share?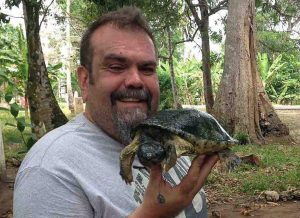 Oh yes the one in only Chris Charucki. He was our stage manager for every show that I performed with Furthur and he was the best that I've seen in the business. Before that, he went from working with hard-core alternative punk rock bands to The Dead and its many post Jerry carnations. Charucki was one of those special guys who spent time finding new ways to insult, but in a charming kind of way, the people he liked the most. Trust me, if he didn'tlike you, you knew that, too. But he had a fascinating way of keeping you wondering.  I have many hilarious, dear memories of him. One of my favorites was the time he got sick of me asking for duct tape to tape my Roses to mine and other mic stands on stage In Furthur. .. you see, The roses became a ritual for me to display at Furthur band shows. Without Charucki, many of those roses would've never made it from the kind fans in the audience to me. He also knew how happy & special those roses made me feel, so  I would ask him or AJ for black duct tape. One day he seemed to get fed up with the request & overly huffing and puffing, he said "why don't I just get you your own god damn tape?"  "Ok!" I replied, and thanked him, making a mental note to not ask him for anything for a while. After the show that night I went to pack up my road case and sure enough, sitting on top of it was my very own whole roll of duct tape- but of course it wasn't black. Oh No, Charucki left me his personal roll of barely used fluorescent PINK duct tape. Needless to say, I still have that roll of duct tape and I'll keep it forever, he wrote his name in it, I guess, so no one would steal his pink tape. I teased him about it long after that day.
He took being a godfather very serious. I loved watching him buy outfits for his god daughter Arabella. He would buy her the most girly, ruffle-y 49er; San Jose Sharks & SF Giants outfits and proudly show off pictures of her draped in these outfits. That made him so happy. I also remember him videotaping my son Geddy playing Joe Russo's drums during our first sound check at Madison Square Garden. I'm not sure who was more excited, me, Charucki or my son! He knew that fleeting moment was magical and he allowed it to happen onstage when there was so much going on.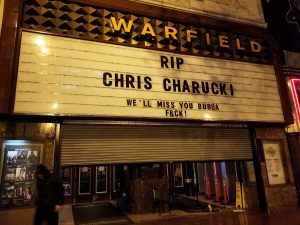 One of the other unforgettable moments was when Chris surprised us and got permission for all of the Furthur band and crew to get on the field and kick and toss a football  around at The Seattle Seahawks field at Century Link Field. Now this was especially exciting because it was just a day or two after their big controversial fumble recovery play. I took so many pix of him that day. We got to see the Chief (Bob Weir) make a field goal attempt in Birkenstocks! I know the guys in Dead & Company must be just scratching their heads, with aching hearts, to find another stage Manager. Of course, someone competent will get it done, but we all know there was only one Charucki. Our scene will never be the same without him. It hurts. I adored him. I owe him a thank you for being so, so very kind to me, in his own gruff and "mean" way. If you see stickers around that say, "Fuck Charucki" that was started by the various crew members he pissed off and that came to actually love him.
You can find tickets to Melvin Seals and JGB special show Celebrating the 96th Anniversary of The Warfield Theater along with Very Special Guests Oteil Burbridge, Stanley Jordan, Dave Ellis, Jackie La Branch, Gloria Jones and Rodney Holmes on Saturday, May  5th here.