Tedeschi Trucks Band (TTB) has announced today their eighth annual residency at New York City's legendary Beacon Theatre.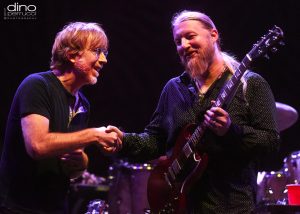 The band — led by husband and wife team Susan Tedeschi and Derek Trucks — will return to the Beacon this October 5, 6, 9, 10, 12, and 13 for a string of shows that will include two weekends of "Evening with Tedeschi Trucks Band" two-set performances, as well as two midweek performance dates that will feature special opening guests, not yet announced. As per tradition, TTB will serve up diverse setlists featuring special guests aplenty.  In March, the band even asked fans on social media to submit suggestions for potential sit-ins. Past openers and special guests have included Taj Mahal, Dickey Betts, Trey Anastasio, Nels Cline, Norah Jones,  Leon Russell, Rosanne Cash, Jimmie Vaughan, Eric Krasno and Dave Mason.
Last year marked a special year for TTB: they celebrated their 25th show at the Beacon during their October residency. This year's October 9 date will mark the 30th show for the band at the storied theatre.
TTB won't be taking it easy before their Beacon run — they'll make their first-ever appearance at the Telluride Bluegrass Festival and will also embark on a summer amphitheater tour, featuring special guests Drive-By Truckers and The Marcus King Band.
A pre-sale for tickets through the band are available beginning at 10 a.m. tomorrow, Tuesday, May 1 [code: TRUCKS]. General public tickets go on sale on Friday, May 4 at 10 a.m. ET via Ticketmaster.
Here are the Tedeschi Trucks Band's Beacon Theatre dates:
10/5 — Evening with TTB, 2 sets
10/6 — Evening with TTB, 2 sets
10/9 — Opening guest TBA
10/10 — Opening guest TBA
10/12 — Evening with TTB, 2 sets
10/13 — Evening with TTB, 2 sets
Get Tickets
[ecs-list-events organizer_id='5629′ design="compact" fgthumb="white" bgthumb="#0a0a0a" buttonfg="white" buttonbg="#0a0a0a timeonly="true" venue="true" button="Buy Tickets" limit='20' excerpt="true" ]