The Nth Power, paris_monster, Chris Bullock Band & more Throw Down Sunday Night at Drom in NYC
On Sunday night, I went to DROM in the East Village for APAP's Royal Artist Group Showcase. The eight-hour musical extravaganza included indy acts such as Nick Cassarino (solo), Natalie Cressman and Ian Faquini, Chris Bullock Band, Bob Lanzetti, Muscle Tough, John "Papa" Gros, Nth Power and paris_monster.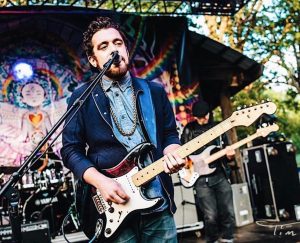 The night started off with a Nick Cassarino solo show. Nick is the lead singer of the Nth Power and he has been touring as a duo with Jen Hartswick as of late this past year.  I have known him for 8 years since before the Nth Power ever got together when he was touring with Big Daddy Kane.  He has been writing his own music and his falsetto and guitar playing have gotten to be so beautiful. I was truly moved by his solo set and song interpretations with included both covers and songs Nick wrote himself.
Natalie Cressman and Ian Faquini were up next and played a full set of Brazillian music written by Ian all in Portuguese.  It was mostly with only his acoustic guitar and the two of them singing but Natalie busted out her trombone and softly added some texture to the soft lovely Brazillian music. At a certain point, Natalie noted one of the songs Ian wrote was a dedication to the birds that were endangered bird species of the Amazon.  Their full album of this soft dreamy Brazilian music is set to be released in 6 weeks.
Chris Bullock Band is led by…Chris Bullock the saxophone player for Snarky Puppy and his band included the baddest bassist on the scene these days, Felix Pastorius, Justin Stanton from Snarky Puppy on keys and synth and drummer Jharis Yokley.  Chris and Co. did all original songs off his brand-new album Boomtown due out this month. Easily, my favorite song they played was "Anti-Jam" which frankly was anything but, as they jammed that song harder than any of the 4 songs they played. One thing I did notice was for the majority of the set the majority of the band was playing by reading off pages of long-form written out sheet music. It is not something I notice all the time but the music was definitely deep and nuanced and as the name of the one song states, it was definitely not jam music. For the last song, Chris has Bob Lanzetti come up and play ripping guitar for their final tune.  Chris Bullock Band will be on tour starting in February to back the new album both on the East Coast and a whole West Coast tour.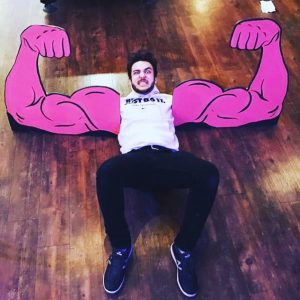 Muscle Tough is a Philadelphia based Fusion Funk Trio.  When they took the stage 2 huge Popeye type arms showed up and graced the front of the stage while the Funk trio played on the stage.  This was the point that this party became a formal dance party instead of 100 people politely sitting around, swaying and clapping politely.  The band consists of Ross Bellenoit on guitar, birthday boy Jonathan Colman on bass with Joe Baldacci on drums.  These three boys are funky. This was the first time I saw them; however, from the looks of it they had a bunch of fans in the house last night that knew and were very familiar with this music.
Next up was one of my favorite New Orleans artists John "Papa" Gros. I was blessed to see his band the night before at Brooklyn Bowl with Leo Neocentelli (from The Meters) sitting in with his stellar band. Watching John play the NOLA music he reveres so much just makes me…happy.  His voice is unique, gravely and perfectly suited for the Dr. John tunes and Meter's classics which usually inhabits his sets.  We were lucky that John Gros stayed around until the 1:30 am jam session with Nikki Glaspie, Nick Cassarino, Nate Edgars and Justin Stanton to play a few NOLA based ditties to celebrate the start of Mardi Gras season and Three Kings Day. Unfortunately, no King Cake was served…but I digress.
The main reason I went to this gig was my undying love for one of my favorite bands The Nth Power. I was lucky enough to be in attendance when this band formed one night in New Orleans during 2012 JazzFest at The Maple Leaf at a gig with a 3 am start time. What I saw that night was what it feels like to watch magic happen.  Every time they step on the stage and I am anywhere in the vicinity…I go.  Last night was classic Nth Power. Each of the bands only had a 30-minute slot to strut their stuff, which for a band like the Nth Power leaves them rushing to get even 3 songs in under the wire.  Nikki's drumming was, as always, so tight, in the pocket and just monster playing no matter what the genre. Nick and Nikki's vocal blend (including Nick's falsetto) blend seamlessly and really make this iteration of a power trio…just that.  My favorite moments of their (way too short) set was a vastly different yet super enjoyable arrangement of their song "Spirits" off their debut album Basic Minimum Skills Test.  The final song they rocked out was "Take My Soul" off their 2016 release Live To Be Free which saw the band get the entire rooms attention and had, at a minimum, every person's head nodding.
paris_monster!! This duo completely blew me away last night like no other group I had never seen or heard before last night. paris_monster creates a heavily nuanced sound drawing on ambient electronic, sonic exploration in combination with stellar vocals coalescing spot-on execution. The magic is carried out by drummer/keyboardist/vocalist Josh Dion. My highlight of the night was watching Dion playing drums with one hand while tucking his other drumstick under his right arm and using his right hand to play his DSI MoPho.  All the while BELTING out R&B lyrics with crazy range. The group's bassist completely handles his bass plus the electronic undertone of their sound with an extremely wire heavy custom synthesizer. Nikki Glaspie reminded me early in the evening to stay and not miss paris_monster and that was probably the best advice I got all night.