Three Ring Bender Tribute to John Barlow 4/11 at Threes Brewing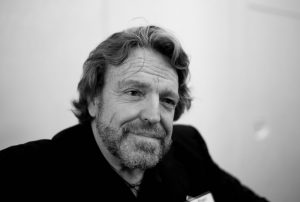 Next week, Three Ring Bender a monthly residency at Brooklyn's Threes Brewing hosted by bassist Annie Nero and drummer Ray Rizzo will present a tribute to late poet, activist and Grateful Dead lyricist John Perry Barlow, who passed away earlier this year.
On Wednesday, April 11 at 8pm, Rizzo and Nero's Three Ring Bender at Threes Brewing pays tribute to John Perry Barlow with a night of words, music, and thought rendered by a stellar cast of musicians and voices, many with ties to Bob Weir's Campfire Band and Blue Mountain Recording.
Nero and Rizzo, who have played with Barlow's longtime friend and songwriting collaborator Bob Weir on his solo album Blue Mountain, will be joined by a couple fellow recent Weir collaborators, percussionist Conrad Doucette and saxophonist Erik Lawrence, plus singer Tyrone Cotton, New Riders of the Purple Sage drummer/guitarist Johnny Markowski, poet/actor Frank Messina, keyboardist Stephanie Sanders and more special guests.
John Perry Barlow died in early February leaving behind a human legacy that included much more than being Bob Weir's best friend and main lyricist. Barlow was a prolific cyberlibertarian political activist, internet civil liberties champion, cattle rancher, poet and, of course, songwriter with the Grateful Dead. Musician Conrad Doucette wrote a tribute to Barlow for Decider and suggested the idea of Barlow night for the April 11 with Three Ring Bender.
More information can be found here.
RSVP here.
Cover is a suggested $10
21+