David Bowie subway station exhibit features art, images and MetroCards
David Bowie's life in New York City is celebrated in an underground takeover exhibit at the Broadway-Lafayette Street subway station, which will be up through May 13.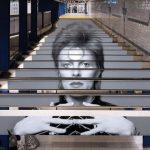 Everyone's favorite Starman has taken over the Broadway-Lafayette subway station in Manhattan in all his glam rock glory.
From April 18 to May 13, wall-sized images of David Bowie, as well as, art ​installation/tribute  (and an ad for 'David Bowie Is') to the musician will be on display on the walls inside the subway of the SOHO neighborhood he loved so much.
​There are more traditional ad-looking pieces, but also some that made use of the station's architecture, and a replication of the "David Bowery" graffiti'd street sign that popped up. There's also a giant outdoor ad on Houston at Broadway above the station. ​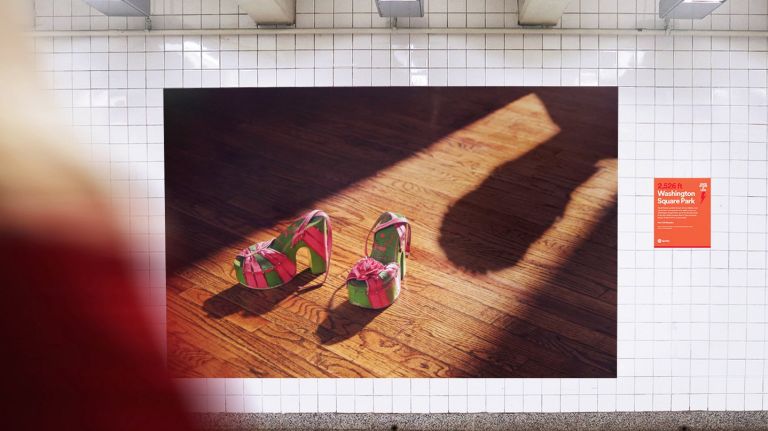 Each piece of art is paired with a quote Bowie said at one time or another about the city he loved and its impact on his work:
"I have a great time here: we can go where we want, eat where we want, walk out with our child, go to the park, ride the subway, do the things that any family does," one poster says, quoting Bowie.
You also can learn about places that influenced him with a "Bowie's Neighborhood Map," which features places like Electric Lady Studios, Washington Square Park, the subway station and other locales.
The rock star liked to take walks to Washington Square Park, which he described as an "emotional history of New York in a quick walk," according to a quote from New York Magazine.
Each image contains a code and are there for you to scan which Spotify will pop up with Bowie's music to accompany this "only in New York" exhibit.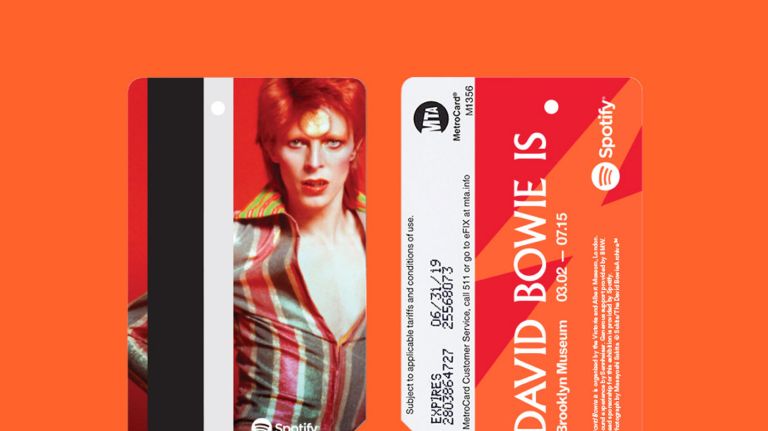 You also can have a piece of the takeover by buying a series of Bowie MetroCards which you can get at the Broadway-Lafayette station, which you can keep collected with your Twin Peaks and Supreme MetroCards. There are 5 different MetroCard designs, one featuring Bowie and his shock of red hair (a photo taken by Masayoshi Sukita).

The underground takeover is inspired by the popular "David Bowie Is" exhibit at the Brooklyn Museum and is a celebration of the icon's life in New York City, according to Spotify.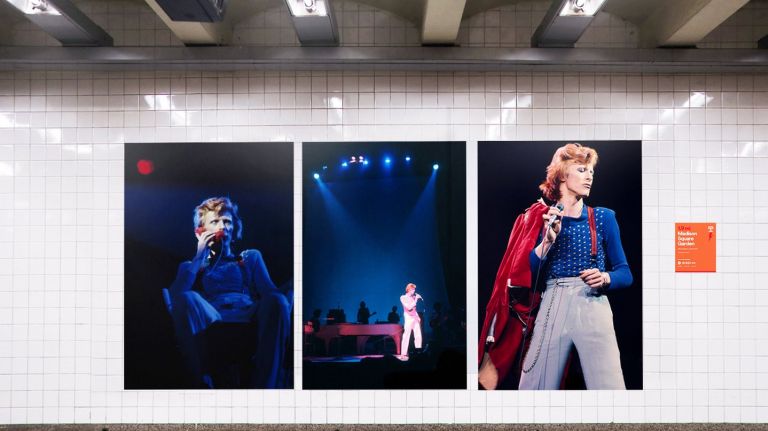 ​ In other news, the screening of Bowie's Lazarus musical concert film with live score at Kings Theatre happens May 2 (tickets),  and there are a number of David Bowie Record Store Day releases this year. ​
'David Bowie is' on display at Brooklyn Museum March 2- July 15, 200 Eastern Pkwy., Prospect Heights, brooklynmuseum.org.