Dead & Company Debuts "The Eleven" On Summer Tour's 11th Night In NYC At Citi Field
One More Saturday Night! On Saturday night, Dead & Company returned to The New York' Mets baseball stadium in Queens, Citi Field for their second night and the third year in a row. Grateful Dead members, rhythm guitarist/vocalist Bob Weir and drummers Mickey Hart and Bill Kreutzmann, with bassist Oteil Burbridge, keyboardist Jeff Chimenti and lead guitarist/vocalist John Mayer treated fans gathered at the home of the Mets to another tour debut and much more in NYC. It was not lost on the band that this was their eleventh show of the Summer Tour 2018.  Dead & Company continue to fire on all cylinders and dig deeper into the Grateful Dead's expansive songbook while debuting their first-ever suite through the elusive "St. Stephen," into the rarely played Robert Hunter bridge "William Tell" into "The Eleven".
"Sugar Magnolia" served as a lively opener as the band got the 41,000 fans rocking behind Weir's anthem which saw his entire family (wife and 2 daughters) dancing their hearts out on the side of the stage. John Mayer showed off his high register as he sang high harmony while backing Weir's vocals on "Mississippi Half-Step Uptown Toodeloo."
Dead & Company – "Mississippi Half-Step Uptown Toodeloo" > "Peggy-O" [Pro-Shot]  via Nugs.net
Bob went to his acoustic guitar which he has often used on most of the stops this tour while singing the heartfelt and gorgeous "Peggy-O." John Mayer stepped up to the mic and led the band and raucous crowd through "Bertha" which promptly became the first proper dance party of the night. Next, Oteil was tasked with singing lead vocal for the tender Robert Hunter/Jerry Garcia beloved ballad "Comes A Time." The song has been an Oteil staple for the past year; moreover, the tune held a special meaning with Oteil singing it since Dead & Company debuted his version of the song last summer at Citi Field. I have to say, to me, no one has been able to come close to the tenderness shown by Jerry Garcia when he sang those hallowed Jerry ballads until Oteil started singing these songs.  Watching him find his voice over the last year; it is like watching a flower bloom and I feel blessed that I have gotten to witness Oteil's vocal coming out party.  Every time he signs any of these heavy ballads–he is spot on and envokes such a lovely feeling I haven't felt, well, since Jerry.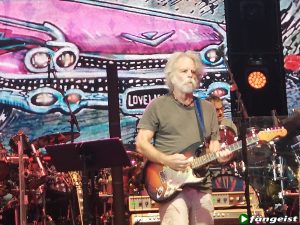 Bobby moved back to his acoustic guitar for the seldom played "Jack-A-Roe" before flawlessly transitioning into a "Bird Song" > "New Speedway Boogie" > "Bird Song" sandwich to close out the first set. Bird Song always reminds me of Janice Joplin who the song was written before.  Dead & Company does a great job on this song both with tender singing and soft but firm guitar playing.
The 40,000 people at Citi Field collectively went nuts when they heard the opening notes of "Help On The Way" (knowing that they were about to hear the trifecta of Help > Slip > Frank) into "Slipknot!" and, crashed into an exuberant and epic "Franklin's Tower" crowd sing-a-long. The superbly executed trio brought the show out of halftime and commenced their final NYC set of the two-night stand. "Franklin's Tower" crescendo into a powerful peak behind solid keyboardist and crowd favorite, Jeff Chimenti's phenomenal organ work. It was Mayer, however, who pushed this rendition (musicians say this is the hardest set of songs to play in the entire Dead cannon) over the top, commanding the difficult yet anticipated anthem with a noticeable confidence that proves he is "Built To Last."
Dead & Company – "Help On The Way" > "Slipknot!" > "Franklin's Tower" [Pro-Shot]
[Video: 
nugs.tv
]
"Help"/"Slip"/"Franklin's" have remained a fearsome three pack so far with Dead & Company; just as they were for the Grateful Dead. However, not all of the Grateful Dead's classic live suites have retained their consistent groupings with the new musicians in Dead & Company. "St. Stephen" has been a staple of Dead & Co set lists since the band's inception in 2015, but the "William Tell Bridge" > "The Eleven" was frequently played in live concerts from the late 1960's to the early 1970's, the song fell out of regular performance during the rest of the Grateful Dead's long strange trip. William Tell Bridge was ONLY played after "St. Stephen" into "The Eleven."
Both Friday and Saturday, while Shakedown Street raged in the lot in Citi Field, all those who were already on the scene heard Dead & Company practicing this complex 3 song run over and over. On Saturday night, after flubbing the second verse of lyrics in "St. Stephen", the band trippy psychedelic moment steered into the revered and rarely played  "William Tell Bridge." Mayer played some insane and intricate spellbinding guitar which led the band into the tour debut of "The Eleven". This fan favorite (named for its extremely unusual 11/8 time signature) smoked the entire audience and led to an exalting release by all as. Bob Weir led the band on vocals with Mickey Hart and Bill Kreutzmann kept the song's time signature right on point. Dead & Company fans have been waiting for 3 years since the group was formed to hear "The Eleven." Almost every single deadhead upon hearing St. Stephen have hoped that they will FINALLY bust out and segue into "The Eleven." Notable, since this was the 11th show of the Summer 2018 Tour it seemed the perfect time to unleash this complex yet beloved beast. Watch fan-shot footage of "St. Stephen" > "William Tell" > "The Eleven" below:
Dead & Company – "St. Stephen" > "William Tell Bridge" > "The Eleven"
[Video: 
@realdeal1999
]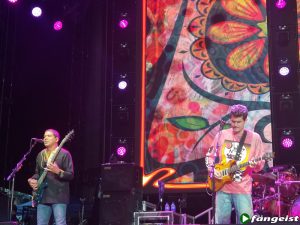 Mickey and Billy took the audience through their "Drums" and "Space" oddisy with their unique tribal groove. "Eyes of the World" seemed to fit perfectly coming out of "Space" which all the Heads went nuts for and the whole audience was shaking it. "Eyes" was infused by epic solos from Mayer and Chimenti., Post "Eyes of The World" the band segued into their second set Jerry ballad which came in the form of a  stirring "Stella Blue" by Bob Weir before ascending into "Sunshine Daydream" coda, completing the "Sugar Magnolia" that started the show. Not wholly unexpected, Dead & Company returned to the stage for one last song "One More Saturday Night" before taking their bows to a screaming, cheering crowd up on their feet.
Dead & Company's 2018 summer tour continues on Tuesday, June 19th at Darien Lake Amphitheater in Darien Center, NY. For a full list of upcoming dates, head here. Last night's full performance is available to stream now via nugs.net.
Setlist: Dead & Company | Citi Field | New York, NY | 6/16/18
Set One: Sugar Magnolia, Mississippi Half-Step Uptown Toodeloo > Peggy-O > Bertha, Comes A Time, Jack-A-Roe, Bird Song > New Speedway Boogie > Bird Song
Set Two: Help On The Way > Slipknot! > Franklin's Tower, St. Stephen > William Tell Bridge* > The Eleven* > Drums/Space > Eyes of the World, Stella Blue, Sunshine Daydream
Encore: One More Saturday Night
*Dead & Company debut