Dead & Company Premiers 5 Tour Debuts Songs at SPAC
On Monday night, Dead & Company brought their summer tour to one of the east coasts beloved ampitheaters, the Saratoga Performing Arts Center, nesseled in the Saratoga Spa State Park in Saratoga Springs, NY. The band is eight shows into their immersive and robust Summer Tour. The band has managed to keep things fresh and fight the middle of the tour doldrums by kicking out five tour debuts on the hallowed venue that is SPAC.
The band opened with some noodling that led into Bob Weir and John Mayer trading vocals on a Dead & Company staple "Jack Straw." John Mayer ended the song on a high point with an absolutely torrid closing solo.
John Mayer easily took charge on the tour's first "Easy Wind." "Easy Wind" is right in John's wheelhouse as this 1970 Grateful Dead Robert Hunter penned tune was performed exclusively with The Dead's original keyboardist and blues loving founding member, PigPen. This song has only been played 5 times including the first memorable time which this song was played by Dead & Company on Summer Tour 2016 in Portland, Oregon in front of PigPen's family and son.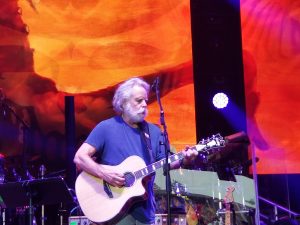 Weir switched to acoustic guitar as he sang the American Beauty classic, "Friend of The Devil." John Mayer and Jeff Chimenti took the song soaring during their intertwined solos and real time improvisation. Weir busted out the tour debut of "Minglewood Blues", with Weir growling how all the ladies in Saratoga were looking good. Minglewood was followed by a superb and unique take of "Ship Of Fools" which was sang by Mayer and Oteil with backing vocals by Weir and Chimenti. They have been working with the interpretation of this classic and they have made their unique delivery their own on the tune, which I quite like.
The band then moved on to 2018's first "Corrinna" bust out. "Corrinna" is a Weir-penned Ratdog song off the 2000 Ratdog album Evening Mood written by the unique writing aw triumpharant of Robert Hunter, Bob Weir and Mickey Hart and has been played by Dead & Company on one other occasion. Finally, the band slammed into high gear as the opening set wrapped up with an exhilarating "Cassidy" with Weir in fine form vocally and Mayer laid on the crowd an exhilarating solo to end the Weir/Barlow written masterpiece which elicted a roaring ovation from the particularly responsive and joyous audience.
Set two kicked off strong with with bands rendition of The Band's "The Weight" that again saw Weir, Mayer, Jeff Chimenti, and Oteil Burbridge each lead the ensemble through a verse which featured some clearly practiced and in tune group harmonies during the reggae tinged number. Weir was particularly inspired, even singing falsetto at one point which he has been working in a few times during each of the eight shows this run.
A super sick "Other Ones" jam led into a smoking version of "Truckin'" that got the rawkus crowd amped up all the way to the top of the SPAC lawn which saw the band dive into a smoking trilogy of "Truckin'" > "He's Gone" > "New Speedway Boogie". Next, Dead & Company delivered one of their most expansive renditions of the Grateful Dead classic "Uncle John's Band" of their three-year tenor. "Uncle John's Band" was highlighted by Mayer's incredibly nimble fretwork on multiple, lengthy solos throughout the song during some dynamic and fantastic interplay with Chimenti which led Weir and the band into a "Supplication" jam which had the audience screaming and cheering to finally hear the elusive "Lazy Lightening/Supplication" bust out with no such luck this time.
After this exceptional hour of music, Bill Kreutzmann and Mickey Hart took the spotlight for "Supplication" jam flowed into "Drums" as all but Mickey Hart and Bill Kreutzmann left the stage. After this exceptional hour of music, the two drummers did their spacey percussion medley until the rest of the band rejoined the drummers for a "Space" jam that finished off the last verse of "Uncle John's Band," all the while sprinking hints of the "Supplication" jam. The rocking second set came to a close with a pair of tour debuts, the somber "Black Peter" and a fun cover of the Young Rascals ""Good Lovin'" that had the immense crowd singing along joyously and dancing in the aisles. After a very short encore break, Dead & Company returned to the stage for a quick take on the Grateful Dead's biggest commercial hit, 1987's "Touch of Grey".
Dead & Company will continue to the 9th stop on their tour on Wednesday night with a show at the XFINITY Theatre in Hartford, CT. Check out last night's setlist, as well as videos of both set-openers, below.
Dead & Company – "Jack Straw"
[Video:
nugs.tv
]
Dead & Company – "The Weight" + "Other One Jam"
Setlist: Dead & Company | Saratoga Performing Arts Center | Saratoga Springs, New York | 6/11/18
I: Jack Straw, Easy Wind > Friend of the Devil, Minglewood Blues, Ship of Fools, Corrina, Cassidy
II: The Weight, Other One Jam > Truckin' > He's Gone > New Speedway Boogie > Uncle John's Band > Supplication Jam > Drums/Space > Uncle John's Band, Black Peter > Good Lovin'
E: Touch of Grey
Upcoming Dead & Company Tour Dates
There are no upcoming events at this time.