J. Cole Breaks Both Apple Music & Spotify's Day 1 Stream Record in the US
More people in the US listened to the rap album on Apple Music and Spotify in its first 24 hours than any other.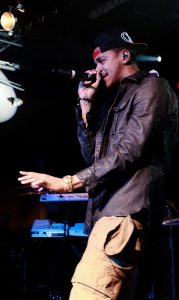 The quite interesting part of this story: J.Cole has broken the record for the most day-one streams on both Apple Music and Spotify in the US market.  People streamed "KOD" 64.5 million times in 24 hours on Apple Music, beating "Views" by Drake  (the previous record owner) by almost a million streams on the first day it was released. Additionally, J. Cole's tracks are 7 of the top 10 most-streamed songs in a 24-hour period on Apple Music.
J. Cole's LP "KOD" focuses on themes like addiction, depression and other similar heavy topics. The Guardian called the LP "brilliantly brooding" and said Cole "sets himself up as the conscience of mainstream hip-hop." And Vulture calls J. Cole's recent work as a "thoughtful meditation on addiction." Tracks include Once an Addict (Interlude); The Cut Off; and Photograph.  KOD's best track may be its closer, 1985, which is billed as a taste of his forthcoming project The Fall Off. 1985 delivers hip-hop's new generations of artists (by whom Cole is "unimpressed") a wise, warm yet firm talking-to that switches from practical advice, warnings about the fleeting nature of fame and the inadvisability of jumping on trends to a stark and impressively incisive suggestion they should think hard about the nature of their appeal: "These white kids love that you don't give a fuck, 'cause that's exactly what's expected when your skin black… They wanna be black and think your song is how it feels."
The revealing statistically relevant part of this record-breaking LP is that J. Cole has broken the record for the most day-one streams on both Apple Music and Spotify with 64.5m streams on Apple Music within 24 hours, but just 36.7m streams on Spotify. This gives a ton of new insight into the 'streaming wars' between behemoth Apple and the recently IPO'd streaming music player, Spotify.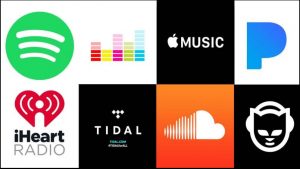 Spotify and Apple Music have emerged as the early leaders in the changing market for how we listen to and pay for music. Rather than buying music outright, like in the era of CDs and digital downloads, people are increasingly paying flat fees for all-you-can-access tunes from a multitude of options including Apple, Spotify, Amazon Music, Pandora, Google Play Music,  Tidal, Deezer, Soundcloud, Napster and HeartRadio.
The numbers publicized by both companies represent the streaming volume that Cole's new LP, KOD managed to achieve on each service in the US during the album's opening day which was this past Friday, April 20th.
At least, that's according to Apple and Spotify, respectively: both services revealed their stats today (April 23) via Twitter (see below).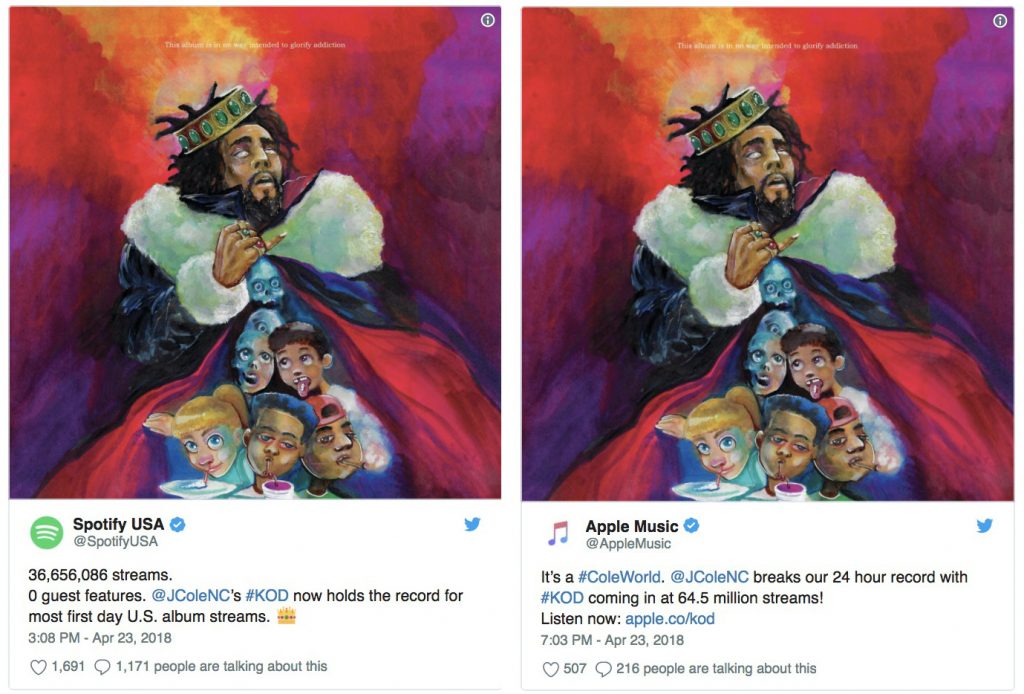 Apple has since confirmed that its number relates to KOD's US-only performance. The looming question is how can Apple be so far ahead of Spotify?
Between these two numbers combined (101.2m), Apple Music takes 63.7% of the US action – with Spotify on just 36.3%
Moreover, Apple is also claiming that Apple Music was responsible for 60% of global streams of the album on its first day. This is a bit of a head-scratcher:
Spotify is believed to have a current active user base worldwide of around 170m (75m paying; 95m ad-funded) while Apple Music is believed to have around 48m (40m paying; 8m on free trials).
That puts Spotify nearly 120 million ahead in terms of global user reach.
In the US, however, Apple and Spotify are reportedly locked in a much closer race for users.
Back in February, the Wall Street Journal suggested that Apple Music would catch Spotify's total US subscriber base by the summer.  In March, Apple said it has 38 million subscribers, which was up 2 million in a month. Spotify, which went public earlier this month, has 71 million paying members. Still, a report from earlier this year said Apple may be on track to overtake Spotify in the US, the biggest music market in the world, based on a snapshot of monthly growth rates.
J. Cole is set for his fifth No. 1 on the Billboard 200 albums chart with his latest studio effort, KOD. Industry forecasters suggest the LP, which was released April 20 via Dreamville/Roc Nation/Interscope Records, could launch with 2018's biggest week for an album — as it may earn between 350,000 and 400,000 equivalent album units in the week ending April 26, powered by sizzling streaming activity.
The surprise LP, KOD, which was only announced on April 16, is J. Cole's fifth studio release. All four of his previous studio sets reached No. 1 on the Billboard 200.