The Bunny ALL Weekend Long! 24/7 Phish
Phish returns to Watkins Glen International in Watkins Glen, New York for Curveball, their 3rd festival located at this storied historic venue this weekend.  One epic tradition will endure and continue, with three "From The Archives" broadcasts on the event's radio station — The Bunny.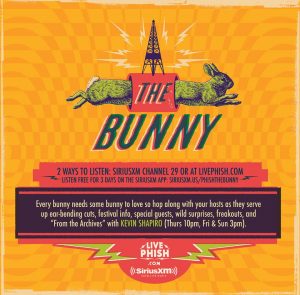 Every bunny needs some bunny to love so tune in to The Bunny, this weekend, ALL weekend long at Curveball.  Hop along with your hosts, Phish, as they serve up ear-bending cuts, festival info, special guests, wild surprises, and "From the Archives" with Kevin Shapiro.  Each installment of "From The Archives" features Phish archivist Kevin Shapiro digging deep into the band's vast 3-decade vault to broadcast gems from Phish history. The Shapiro-hosted show will air this Thursday at 10 p.m. ET; as well as, on both Friday and Sunday afternoons at 3 p.m. ET.
You can listen for FREE for ALL 3 days to The Bunny on the SiriusXM app by signing up at siriusxm.us/phishthebunny. Additionally, The Bunny will also be broadcasting at livephish.com all weekend long. Unfortunately, to the displeasure of some phans the Phish festival's radio station will not air on an FM station this time around. Put on your ears and safe travels phans!