23 Years Ago The Grateful Dead & Jerry Garcia played the final show
The Grateful Dead's final show with Jerry Garcia marked the end of an era—for music lovers and acid trippers alike.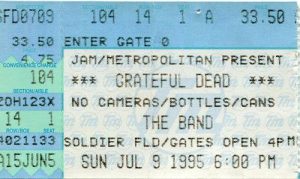 Twenty-three years ago, on this date, July 9, 1995, The Grateful Dead performed its last show with original lead singer, founder and guitarist, Jerry Garcia. The concert took place at Soldier Field in Chicago, Illinois and was the second performance of a two-night stand the band held at the large stadium that also marked the end of the tour the Dead were currently on. Frontman, Jerry Garcia tragically and unexpectedly died exactly one month later of a heart attack, at 53. The remaining members Bob Weir, Phil Lesh, Mickey Hart and Bill Kreutzmann immediately decided to disband soon after.
That night, hoarse and tired, Garcia's shaky appearance and vocals spoke to the health problems that would soon consume him. Relix magazine, in a brutally frank contemporary review, described the entire tour as "star-crossed." That run of bad luck continued on this night, as Garcia had equipment problems to match his personal ones. Ultimately, he had to replace his trusty Rosebud guitar with a tour spare, the old Tiger. Garcia, Relix's Patrick Russell wrote, "seemed distracted much of the time. Aside from the moments when he was in the zone and losing himself in the music, Jerry looked like he really just wanted to go home and forget all this."
According to Bob Weir in his Netflix documentary,  Jerry Garcia's last words to Bobby as they walked offstage on Soldier Field were the words: "Always a hoot."
RIP Jerry Garcia. We all miss you very much
Here is most of the second set of the final performance of Jerry Garcia and The Grateful Dead via Voodoonola2.
You can also listen to the full audio, including Jerry's last vocal the incredibly prophethetic "Black Muddy River," below via Jonathan Aizen:
Set One: Touch Of Grey, Little Red Rooster, Lazy River Road, When I Paint My Masterpiece, Childhood's End, Cumberland Blues, The Promised Land
Set Two: Shakedown Street, Samson & Delilah, So Many Roads, Samba In The Rain, Corinna > Drums > Space > Unbroken Chain > Sugar Magnolia
Encore: Black Muddy River > Box Of Rain