New Soulive Album – EP Cinematics, Vol. 1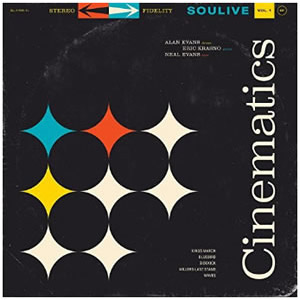 Soulive, comprised of Neal Evans, Alan Evans and Eric Krasno released their first collection of new music in six years with their long-awaited EP Cinematics, Vol. 1. The EP takes its name from its five tracks' cinematic quality, and the band's press release even offers some thoughts on the types of films that might be complemented each song ("Kings March", for instance, could work with a vintage spy thriller).
"A cinematic piece of music creates a mood. Film composers like Jerry Goldsmith, David Axelrod, Ennio Morricone and Melvin Van Peebles were all influential in the concept for 'Cinematics,'" Krasno says. "The idea is to use soundscape and melodic interplay to enhance the feeling and sentiment of a visual and to amplify the emotion that it's relating."
Recorded late last year at Alan Evans' Iron Wax studio in Western Massachusetts, Cinematics, Vol. 1 is the first release of a planned series of "Cinematics" EPs. That means fans can expect plenty of new music from Soulive in the foreseeable future.
"One of the advantages of putting out music in 2018 is that we can do it quickly and on our own schedule," Krasno says. "We made this record top to bottom in two days and put it out about a month later, while it's still fresh from being created."
"We didn't have to talk about anything," Alan says. "It all unfolded as we were working on it; one song influences the direction of the next, and soon you find yourself going down this path. We want this music to take people on a little journey."
Despite the forthcoming release, Soulive hasn't announced any new tour dates. You can get tickets here as the band is scheduled to perform at the Ardmore Music Hall outside of Philadelphia on March 2nd and 3rd before heading to London for a show at The Jazz Cafe on March 6th.