REVIEW: Peach Festival recaptures Allmans' spirit after tragedies of last year
The Peach Festival, if nothing else, is a communal event, a shared experience of the masses (about 20,000 strong) consisting of both young and old.
The Allman Brothers circle had an extremely tragic year in 2017, losing both Gregg Allman and Butch Trucks just months before the Allmans-curated Peach Festival returned for a sixth year at The Pavilion at Montage Mountain in Scranton, PA.
In retrospect, that might have been a bit too soon. Even that show's tribute set to Allman and Trucks felt forced and melancholy. However, after time to reflect, this year's Peach Festival, which kicked off Thursday and ran through Sunday night, seemed to more accurately capture The Allman Brothers spirit and moxie.
It did that by doing what the Allmans always seemed to do: jam on with that feeling that the show will never end.
It wasn't just the sets by the remaining Allman Brothers members that did that, but clearly, a set by drummer Jaimoe and his Jasssz Band got it right.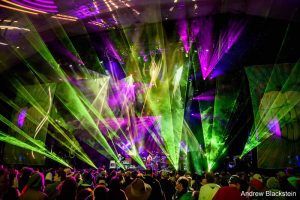 Playing on a side stage, the 74-year-old drummer's band  Jaimoe and his Jasssz Band jammed exactly in the way the early incarnations of The Allmans' did. On a 10-minute version of T-Bone Walker's "Call It Stormy Monday," the band started an extended improvisational jam driven by guitarist Junior Mack that was excellent; moreover, halfway through, the jam shifted to a jazzy time signature which gave extended time to saxophonist Chris Jensen and trumpeter Reggie Pittman.  Not shockingly, it was The Allman Brothers "Blue Sky" that really got the crowd pumped which elicited a tangible rush which raced through the audience by simply playing the opening notes which kept the audience moving through its 10-minute run.
Growing up as the son of Grateful Dead bassist Phil Lesh, Grahame Lesh was exposed to plenty of great American rock music; yet, his band, Midnight North, takes the best parts of roots music and weaves them into a tapestry of rock and Americana. Onstage with vocalists and multi-instrumentalists Elliot Peck and Alex Jordan and bassist Connor O'Sullivan, Lesh leads a group that just as easily sounds like Buckingham-Nicks era Fleetwood Mac in its soulful rock simplicity as it does The Grateful Dead. The killer blues progression of "Headline From Kentucky" allowed the group to show off its vocal 3 part harmonies and the rollicking rock tune "Everyday" featured Jordan's country-jam Telecaster tones. "Miss M" was a cool blend of gospel and swamp-funk and Midnight North's cover of Blind Willie Johnson's "Keep Your Lamp Trimmed and Burning" began with a rocking and unexpected vaudevillian intro before sliding into a slinky jazz feel.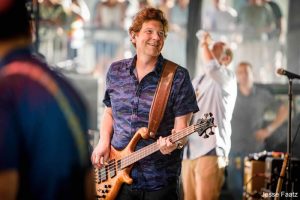 After bassist and vocalist Rob Derhak's successful battle with oropharyngeal cancer in 2017, moe. has played each set like it could be their last. Leading with its unique brand of funk in "Brent Black," the band, who celebrated their 25th anniversary in 2015, gave the Peach audience an adrenaline shot which was primarily led by the howling fret board of guitarist Chuck Garvey. Moe kept things going with an onslaught progressive rock (which was bass-soaked), acid-jazz and raging metal, jamming through "Billy Goat," "Tubing the River Styx" and "George" which included a 15 minute extended jam on its song "The Pit." New tunes "Who You Calling Scared?" and "New Hope for the New Year" kept things weird and funky and kept the band moving throughout with great, intricate and interesting musicianship. However, it was late in its 90-minute set that the band really roused the crowd by bringing out the horn section from Brooklyn funk-and-psychedelic band Turkuaz, which closed the Peach on Thursday night, to play on a great rendition of The Band's "Ophelia." It had the crowd in ecstasy – drawing a huge roar at the start which commenced the dancing throughout the entire venue with a palpable energy that would burst forth in cheers randomly through the song."Maybe we should have saved that for last," moe. singer/bassist Rob Derhak said to the crowd. "We even got some of the old guys to stand on that one." Yet moe. topped that when it closed the set with a nine-minute version of Rush's "Tom Sawyer," which the crowd was really into; in the way, only a crossover crowd of Rush and jam-band fans could be.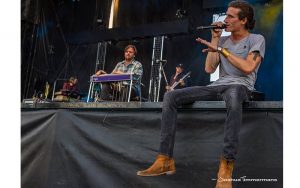 The Revivalists were perhaps the least jammy set of the weekend, running through 11 songs in its 70-minute set, starting with a seven-minute "Criminal" and four-minute "It Was a Sin" and a five minute "Stand Up." Yet, the musicianship of The Revivalists was strong with an amazing performance from the very strong lead singer and they closed their set with a good run, starting with its best, "Soulfight." The song started lovely and lilting; however, built with intensity throughout its eight-minute run before finishing to a screaming race; even mashing in a riff from Thin Lizzy's "Boys Are Back in Town." They closed with "Got Love," then their biggest song, the 2016 No. 1 Alternative hit "Wish I Knew You" – a blast of 1970s soul that also had the crowd dancing, and giving the band a roar at the end.
But perhaps Friday's best tribute to The Allmans spirit was Grateful Dead bassist Phil Lesh and the Terrapin Family Band. The seven-member group was the night's penultimate act (Umphrey's McGee closed with a set starting at midnight), and from the start hit the right note with a 12-minute version of The Dead's "Mr. Charlie," sounding very much like The Dead. The band's 13-song set, which stretched over two hours, had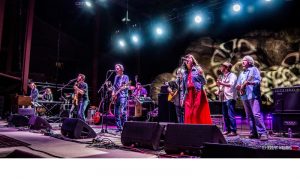 wonderful highlights, with 10-minute versions of "Tennessee Jed" and "Throwing Stones," "Truckin'," the main-set-closing "Sugaree" and an encore of "Box of Rain." Mid-set, Karl Denson showed up on the stage with his flute and absolutely killed the solo on "Bird Song." Yet, it was songs earlier in its set that best captured the spirit of the night. "He's Gone," touched on the sense of loss of both Gregg Allman and Butch Trucks, with its poignant lyrics, "Nothin' to do but smile, smile, smile … He's gone and nothin's gonna bring him back." it was played and sung with such joy, you knew it was what both those late players would have wanted.  On the best of Lesh's set, his band played an appropriately rollicking, burning version of "New Speedway Boogie," the lyrics of which could be the mantra of this year's Peach Festival.  "One way or another," the song's lyrics go, "This darkness has got to give."
To cap off Friday evening, Umphrey's McGee closed out the main stage with a face-melting set.  Umphrey's had everyone in the crowd moving, from the front rail to the very edge of the lawn.  After covering Peter Gabriel's "Sledgehammer," the band busted out a live debut of Rolling Stones tune "Bitch," as well as a new song dedicated to an "'I don't know who you are' named Melody."
Karl Denson reappeared with his Tiny Universe to finish up the night at the Mushroom Stage. Karl Denson and Tiny Universe has been touring as of late doing sets of "Eat a Peach" as an homage to The Allman Brothers. Karl and his band did some awesome original tunes, a Brand New Heavies tune but really got the crowd going by sprinkling in some Allman Brothers tunes to a large crowd gathered to see the strong band which includes guitarist DJ Williams, trumpet Chris Littlefield, guitarist Seth Freeman, David Veith, Pete Griffin and Zak Najor.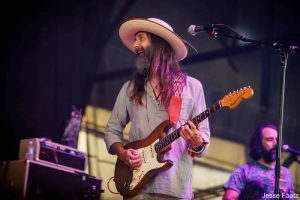 Every single thing the Chris Robinson Brotherhood does has more than a tint of psychedelic rock infused in it. Fronted by the former Black Crowes lead singer Chris Robinson, CRB gives a vehicle to let their Southern roots fused with R&B clearly shine through; however, it is always steeped in psychedelia. Chris Robinson and his Chris Robinson Brotherhood gave a nine-song, 75-minute set on Saturday that saw the band allow each song in the set include room for mind-expanding hallucinogenic soul. "Rosalee" and "Shore Power" were tight but songs such as "Behold the Seer" — the only song the band did from its latest studio disc, last year's "Barefoot in the Head" — were far more free-form and improv-heavy with an epic bayou blues harmonica solo from Robinson. They played no Black Crowes songs. CRB closed the set with a rousing the cover of The Coasters' "I'm a Hog for You" from the Brotherhood's 2017 live disc, "Betty's Blends, Vol. 3: Self-Rising, Southern Blends" which highlighted Robinson's unique and robust vocals.
Little Feat's 1978 live album Waiting for Columbus has made the Los Angeles band's 1977 tour iconic for its distinct blending of blues, California rock and low-country boogie. The centerpiece of Peach's Saturday lineup was a combination set of moe., which played a great set Friday, Little Feat and The Turkuaz Horns. It had both the musicians on stage and the people in the audience reacting together.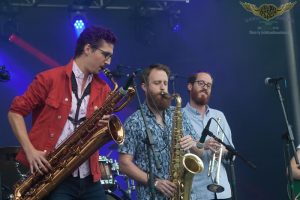 The combination of bands played a set that offered much of Little Feat's first live album, 1978 classic "Waiting for Columbus." With the horn section from Turkuaz replacing the disc's offering of the Tower of Power players (they played the disc's opening offering of "Join the Band"), the set sometimes had 15 musicians on stage at the same time, as for the second song, "Fat Man in the Bathtub." A gleeful "Fat Man in the Bath Tub was a celebratory rock romp with the booming dueling basses by moe's Rob Derhak and Little Feat's Kenny Gradney. That created a dynamic sound, but never one that was overwhelming. Instead, it was all very jammy and danceable. The crowd remained raucous and joyful for moe. and Little Feat, singing along loudly to "Oh Atlanta." "Oh Atlanta" was laced with gospel organ featuring Bill Payne and ended in the moaning syncopated twang of Fred Takett and Paul Barrere's guitars. "Thank you kindly," guitarist/vocalist Paul Barrere told the crowd. "Thanks for helping me out on that one." The combo played the entire first side of the four-sided "Waiting for Columbus," but as you might expect from a pairing of jam bands, improvisation took precedence over precision in doing the whole disc. Barrere dedicated the song to the hurricane victims in Puerto Rico (the song's pivotal line is "I got an uncle in Puerto Rico), saying, "They sure need some help down there, indeed." And the song stretched to seven minutes. "Day or Night" stretched to nine. And a 12-minute "Spanish Moon" had the horns, especially the sax, cutting loose. But that also meant cutting songs to fit the set's allotted 90-minute set (it actually ended up finishing five minutes short of that). The group got 12 of the album's 17 songs into the set, jumping to Side 4 for a sweet, wistful and regretful "Willin'," which Barrere had introduced as "a sing-along song we'd like you to join in." And the masses did. Barrere again addressed the crowd to tell it, "You look like the kind of crowd that would love to sing along to 'Don't Bogart That Joint'!" And they did – they did look like that and they did gleefully sing along. The set ended with a show-stopper by going back to the album's Side 3 for a fun, warm and heartfelt "Dixie Chicken," the Turkuaz Horns marching as they played with Tackett also on the brass. The crowd's big cheer showed how much the music had brought it together.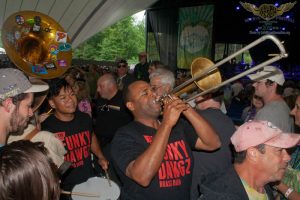 A steady – and at times hard – downpour that started shortly before the set brought most of the people from the lawn under the pavilion, meaning the back sections, and even the aisles, were packed, in some places, uncomfortably so.  One thing that helped cheer the crowd as that crowding began was that Funky Dawgs Brass Band squeezed its way through the tight crowd,  playing as it did in a traditional New Orleans 2nd Line with the crowd following suit.
During the Little Feat set, Nicki Bluhm and her Nashville sound-tribe played their hearts out on one of the festival's auxiliary stages during the aforementioned incessant rain showers which plagued Saturday evening at the Peach. Bluhm just dropped her new album To Rise You Gotta Fall (a project formed in the aftermath of her divorce from Tim Bluhm and separation from her previous band Nicki Bluhm and the Gramblers which included her ex-husband) Bluhm didn't let them rain effect her captivating set. "Things I've Done" highlighted the tight rhythms from the drummer Lemuel Hayes and accompanying bassist Cameron Carrus. The title cut from her new album " To Rise You Gotta Fall" came off as self-assured and featured a killing organ solo by Jeff Adamczyk and adept guitar playing by John McNally.  Nicki Bluhm's voice was first and foremost on display throughout the entire set. Her vocals really shined on a rendition of Dan Penn's country-blues ballad "I Hate You."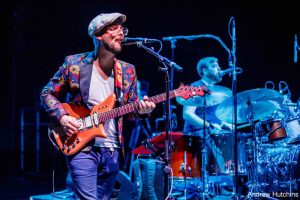 Performing the hundreds of songs and the in-depth complex catalog of the Grateful Dead is a challenge to most ensembles; however, Joe Russo's Almost Dead takes improvisational jam rock to the highest level.  The band is fueled by the combined talents of drummer Joe Russo, guitarists/vocalists Tom Hamilton and Scott Metzger, keyboardist Marco Benevento and bassist Dave Dreiwitz.  JRAD pushes the Dead catalog to its most ecstatic not to mention louder and faster.   The day's penultimate set by Joe Russo's Almost Dead, which started with "Cats Under the Stars," a racing jam that stretched nearly 25 minutes. Though the rains came fast and furious during the JRAD set, the band got virtually the whole crowd was dancing, rain or not. Second-set opener "Estimated Prophet" was a wave of crushing guitar leads by Hamilton which gave way to the slinky groove of "Mississippi Half Step." Metzger took the first pass of the face-melting lead on "Eyes of the World," which found the band peaking three times in a series of jams before segueing to the sometimes predictable "One More Saturday Night." Joe Russo's Almost Dead is a perennial Peach show-stealer. Moreover, JRAD was the only band scheduled to play two sets the whole weekend totaling two hours and 45 minutes, with a half-hour intermission.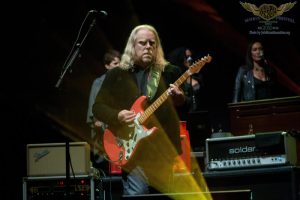 Gov't Mule has honed its brand of heavy rock over the course of an accomplished career as a quartet which includes Warren Haynes vocals and guitary, Danny Louis keyboards, Matt Abst on the drums and vocals and Jorgen Carlsonn on bass. On Saturday night, joined by a few helpful guests, Gov't Mule inhabited the headspace of Pink Floyd in an uncanny way. A bit of a back story, Danny Louis is married to his wife Machan Taylor who sang original backup in the late 80's for Pink Floyd. She brought on her former fellow backup singer, Sophia Ramos who was one of the other original backup singers for Pink Floyd in that same time frame. Without these two backup singers, there is no chance that Mule could have pulled off the EPIC once in a lifetime performance we were treated to on Saturday night in their late set of Dark Side of The Mule.  Danny Louis' whirring organ kept the crowd uneasy between songs, setting the stage for the trippy musical montage and over stimulation of the audience's sense of sight and hearing. Matt Abst took the Roger Waters vocals while Warren Haynes did David Gilmore proper with his vocals and southern-rock style fitting Gilmore's deliberate six-string guitar work, especially leading the ensemble in Floyd instrumental "Echoes," while an effervescent "Fearless" was a light spot in a set that offered a mourning "Shine on You Crazy Diamond" and a devilishly funky "Have a Cigar." The crescendo came with "Great Gig in the Sky," which showcased operatic background vocalists and magnificent saxophone work by guest Ron Holloway.
One of the fans favorite staples of every Peach Festival is the annual "Wake Up With Warren Set" on Sunday. Warren Haynes, lead guitarist and vocalist of Gov't Mule has created a tradition of sorts with a Sunday morning acoustic/gospel type set at the Peach Festival dating back to 2016.  Warren was on double duty on Sunday with kicking off the day with his Wake Up With Warren set and then closing down the day with two sets of Gov't Mule. This was after his aforementioned Dark Side of the Mule set the night before which started at midnight and ended at 2 AM.  Warren's storied solo set this year included some Mule tunes, originals and a handful of masterful covers including Leroy Carr's "Mean Mistreater Mama," Van Morrison's "And It Stoned Me" and The Allman Brother's Band's "Melissa" among others.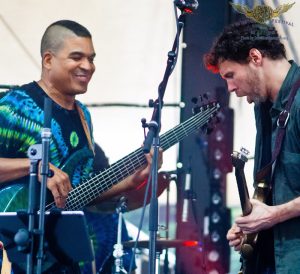 Next up, was a set by The Allman Brothers final bassist Oteil Burbridge whose band Oteil Burbridge and Friends gave a nine-song, 90-minute set. Oteil has most recently played with Dead & Company who is a Grateful Dead band offshoot. Oteil's band is an all-star band whose players consist of former Jerry Garcia Band keyboardist Melvin Seals, Ratdog and former Primus drummer Jay Lane, former Furthur and Dark Star Orchestra guitarist and vocalist John Kadlecik,  and substituting for Soulive guitarist Eric Krasno at Peach was JRAD and Wolf! guitarist Scott Metzger.  As good as Oteil's players were, the set got a huge boost from big-voiced singer Alfreda Gerald who absolutely slayed every single song she sang on and got a huge hand from the crowd literally every time she sang. Oteil's set embraced the improvisation approach. Even a cover of Marvin Gaye's "How Sweet It Is To Be Loved by You" stretched to 11 minutes, and a 14-minute cover of Widespread Panic's "Time is Free" – an instrumental that focused on sax and Weedie Brahama's congas. On that one, Oteil sang and danced – and the crowd danced with him, as well as whooped him along. The best of the set was a cover of the Jerry Garcia Band song "Run for the Roses," which was very Dead-like in its upbeat edge, though still thoughtful. Almost as good was The Grateful Dead's "To Lay Me Down," slow and tender, with Oteil emoting the lyrics in his sweet tenor voice he has recently found and has been highlighted more and more with Dead & Company. Oteil brought out guitarist Brandon "Taz" Niederauer for a take on Jerry Garcia Band's "That's What Love Will Make You Do," with Melvin Seals singing lead as Niederauer had the crowd cheering his fast, articulate playing. Oteil brought out Lamar Williams Jr., son of the late Allman Brothers' bassist, for a cover of Bob Marley's "Stop That Train."  As a closing song/sort of encore, Oteil and company played Janis Joplin's "Piece of My Heart" on which Gerald really cut loose and had the audience in hysteria, clapping and singing along.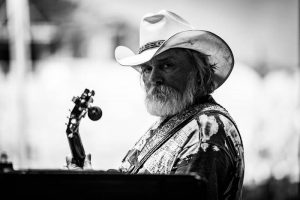 After parting ways in 2000 with The Allman Brothers Band, a group he helped found, Dickey Betts did not speak to Gregg Allman for 17 years, until the pair reportedly found common ground during a series of conversations that preceded Allman's death in 2017. Betts' arrival at the Peach Festival was the posthumous musical reconciliation that never happened while Allman was alive. Joined by son Duane Betts on lead guitar and a keenly capable band, Betts performed a feverish "Statesboro Blues." Though not as spry as he once was, Betts took turns finding the sweet and twangy blues sound that made him one of the greats and yielded elsewhere to the expert players in his band. Devon Allman joined for a "Midnight Rider" that at least reunited Betts with the younger generation of Allmans, and the warm, Southern-rock hop of "Blue Sky" moved the crowd to cheers. Even when this wasn't the tightest set of the weekend, iconic songs like the harrowing "Whipping Post" and the guitar masterpiece "Jessica" incited roars, mostly out of respect and a realization that everything was in its right place for the first time in decades.  Sadly, with only two of The Allman Brothers' original members surviving after the tragic 2017, the biggest factor in wanting to see original guitarist Dickey Betts' performance at the final day of the Allmans-themed Peach Festival could have been nostalgia. Dicky Betts, 74, was playing his first live shows in four years, on a tour he has stated will be his final and farewell tour. However, Betts' set turned out to offer much more than nostalgia. His set which was peppered with both Allman Brothers hits; as well as, songs from his solo records, showed how important a guitarist Betts is, and how he still can connect with both the music and the audience. The very first note of the set was a lick from Betts' guitar on the instrumental "Hot 'Lanta," and the song quickly showed the crowd could expect some legitimate jamming (the song stretched five minutes) from the seven players – which like the Allman Brothers lineup included two drum sets. That was followed by The Allman Brothers' "Statesboro Blues," on which Betts, with a wide-brimmed cowboy hat, assumed a widespread-legged stance as played, and the crowd danced. "Nothing You Can Do," a song from Betts' band Great Southern, showed how the guitarist's skills have diminished. His singing was rough and he also found a stool to sit down halfway through the song. He also sat later in the set during his song "When I Hear Guitar."  He also sang, rough in spots, on the Allmans' "Blue Sky," which was good largely because it's such a good song. His guitar playing also was good, but didn't have the amazing quality it had when he and Duane Allman pioneered the twin-guitar attack in the 1960s. Ironically, the work of keyboardist Mike Kach was just as distinctive. Betts turned over vocals to Gregg Allman's song Devon – who had played a set with his Devon Allman Project on the same stage Saturday with Betts' son Duane (Duane also plays his father's band) – on "Midnight Rider" to sing his father's vocals. The younger Allman sounded very much like his father and got a big cheer. (Also in Betts' band was famed blues guitarist Damon Fowler.) The main set closed with a 10-minute version of The Allmans' "Whipping Post," with Betts ripping through it – playing a solo that literally stabbed at the music with his notes.  The encore started with The Allman's biggest hit, the Betts composition "Ramblin' Man." His singing was again rough and Kach's piano the star, but the song is just so good that it was a joy to hear. He and the band also did a pretty good replication of The Allman's twin-guitar attack and got a huge cheer from the crowd.The set closed with another Betts' composition and one of The Allmans' best-known songs, "Jessica" – its high-pitched dual-guitar approach a reminder of how good that music is. The crowd, which was dancing throughout the set, really took off on the 12-minute tune.
The festival closed a set by Allman Brothers' guitarist Warren Haynes' band Gov't Mule playing a two-hour, 12-song set that included a version of The Allman Brothers' "Mountain Jam."
Peach Festival Photo Gallery