10 Things Not To Miss At LOCKN' FESTIVAL
I am headed at this moment down to the 6th Annual LOCKN' Music Festival and I cannot wait! This is my 3rd trip down to what is loveling known as 'The Farm' in Arrington, Virginia. This festival is the one I look most forward to every year because of its primary focus on jam bands and funk; moreover, the philosophy of the whole festival focuses on music improvisation and collaboration with artists that you wouldn't usually see together. This festival's brainchild is Peter Shapiro who is the founder of some iconic, cutting-edge venues like Brooklyn Bowl and The Capitol Theatre, not to mention he is the iconoclast that got the remaining Grateful Dead members (along with Trey Anastasio) to curate their final performances together dubbed "Fare Thee Well." My favorite hashtag I have ever created is #peteshapiroismyhero and if you have ever been to any of his events or venues…you would know why!
I am so looking forward to this unique musical odyssey that I put together a TOP 10 List of things NOT TO MISS while you are at Lockn' Festival 2018. Check out this list and let me know what is on YOUR Top 10 List that I might have missed!
 Turkuaz
 Turkuaz, the killer Brooklyn based nine-piece funk outlet, just premiered their first track "Life In The City" off their forthcoming album Life In The City, which is out on September 28th. Life In The City is Turkuaz's fifth artist album. The band worked with Jerry Harrison of the Talking Heads on this record, which they say was "an absolute honor." I am so excited to see this high energy band of colorful NYC folk come out and tear down the LOCKN' Festival stage.
Turkuaz is absolutely, one of my favorite bands on the scene; as well as, one of the most hardworking, concert-giving funkster road warriors out there today. Not to mention some of the coolest, kindest and creative musicians on the planet. Check out their new song and video "Life In The City" below and meet me on the dance floor to check out Turkuaz at LOCKN who perform on the main stage on Friday at 4 PM.
Toots and The Maytals with Taj Mahal
Toots Hibbert is one of the true architects of reggae, so much so that "Do the Reggay," a 1968 single by Toots and his group, the Maytals, is credited with giving the genre its name. Classic songs, written and recorded by Toots and the Maytals, have been covered by the likes of the Clash and the Specials, and the group was featured in reggae's greatest breakthrough event "The Harder They Come," the 1972 film that became an international sensation.
I, recently, caught the Toots and The Maytals show 2 weeks ago at Brooklyn Bowl and even after seeing Toots and Co for 20 years, the show was electric and Toots was in great form.
In an unfortunate sidebar, the reggae legend, Toots Hibbert, will play Virginia's Lockn' Festival for the first time in the state since 2013, since he was hit in the head with a vodka bottle during a concert in Richmond and suffered serious physical and emotional trauma after the incident. Post the incident, Toots retreated from touring with his band for a full three years which is the longest break he is ever taken from performing. In spite of the concert touring timeout, Toots estimates he has over 200 brand new tracks laid down.  We are lucky that we will get to see, Toots and the Maytals, in all their glory at LOCKN' with the legendary Taj Mahal on Friday at 6 PM on the main stage!
Check out the video of Toots andt the Maytals Getting Brooklyn Bowl higher
George Clinton & P-Funk
I am so glad that the LOCKN' Festival is having the iconic George Clinton and the P-Funk mothership do one final stop at The Farm on George Clinton's FINAL tour. With a stellar legacy of straight R&B fire hits like "One Nation Under a Groove," "Flash Light" and "Atomic Dog" George Clinton is piloting the mothership of funk one last go around before his imminent retirement at 77-years-old. A new version of Parliament is now made up of George's son and daughter, his grandchildren and friends of the band's original lineup.  The group just released their first album in 38 years "Medicaid Fraud Dogg." The main reason George Clinton and P-Funk made my list is the excellent crowd participation based dance party which they put on in which they pull people out of the crowd to dance on stage with them. I know this because 2 years ago…one of my best friends made me be that girl.  Peep the 5 minutes of the totally glorious and EXTREMELY embarassing (to me) George Clinton dance party I was part of at LOCKN Festival 2016 and go ahead and laugh hard. Join me up there this year…if you dare…meet me in front of the stage at 8:45 on Friday and get ready to dance your ass off!
Video by Jon Hammer

Joe Russo's Almost Dead TWO TIMES!
OK…let me be honest here. I am a card carrying NYC Freak. The New York Times says it better last month than I ever could: "JRAD also emerged, one could speculate, from the collective imagination of the NYC-Freaks email list…The annual "Freaks Ball," held for the past few years at Brooklyn Bowl, brings the flock together. In January 2013, Mr. Russo was supposed to play there in a new group fronted by Mickey Melchiondo a.k.a. Dean Ween, who then changed his mind. After some gentle arm-twisting, Mr. Russo agreed to call on his Bustle buddies for an evening of Dead tunes and JRAD was born. "I swear there was no intention at all to play more than one show," Russo said. 'This was a mother-of-invention moment.'" I was there the first night at Brooklyn Bowl when and where JRAD was conceived and consecrated. I was there over 50 shows out of their first 100 shows and I will see them (hopefully) 100 more times. I was there the night that they played an acoustic set at Brooklyn Bowl for our scenes visionary/troubadour/icon Peter Shapiro.  I was there when they first broke out the FULL Terrapin Suite and spontaneously grabbed the hand of my nearest fellow Freak at the wonder of the epicness that is…JRAD. Lucky for the LOCKN family two of these times are coming up this very week–on the Relix Stage at 11 PM on Thursday night and midnight on the Relix Stage on Friday night! We all know and look forward the whole philosophy and namesake of LOCKN which is possible collaborations with other artists, which is what we are all looking forward to.  Check out one of the most famous LOCKN collaborations below when Bob Weir sat in with Joe Russo's Almost Dead last year at LOCKN Festival 2017.
Garcia's Forest
One of the great wonders of the LOCKN' Festival is the Garcia Forest.  The radical optics alone, with tie dye and pictures of Jerry Garcia blessing the sacred woods around us is, frankly, one of the best things the LOCKN' team blesses us with every year. This is the spot to go to both during the day, before the music starts and after the epic madness of the bands on the main stages has ended and the stoneyness of Jerry Garcia is captured in its full and total essence, without him actually being there. Every night different decades of Garcia Grass (60s, 70s, 80s & 90s) will be highlighted during the daily D'Angelico Song Circle with Jay Starling, Jared Pool, Andy Thacker, and Darrell Muller daily in the Garcia's Forest. Some of my favorite artists like Kofi Burbridge from Tedeschi Trucks Band and Joel Cummins from Umphrey's McGee will sit in at the Piano On The Tavern Porch Stage.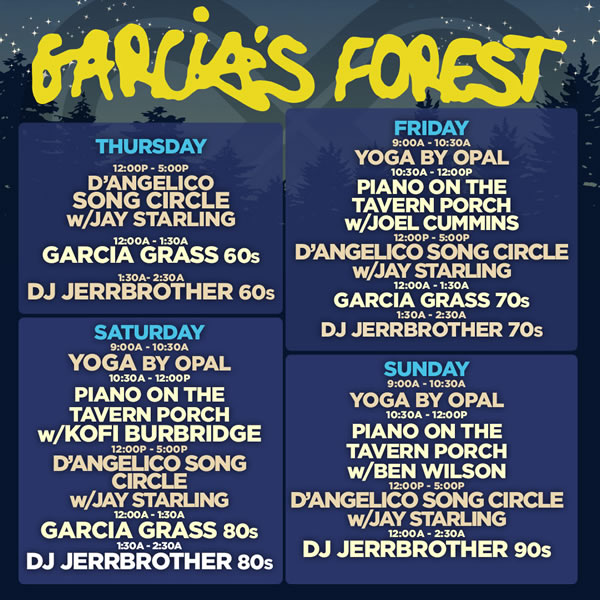 SVIP Collaborations
Special, intimate performances and collaborations are always a highlight of the VIP upgrade at LOCKN'. I was honored to speak with three of the artists who make up some of the VIP acts for this article.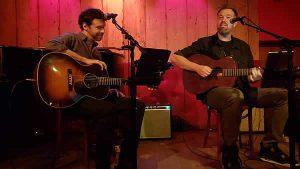 Last night, I went to see and live stream the first performance of the new guitar slayer duo of Eric Krasno & Scott Metzger at Rockwood Music Hall in NYC last night. Scott and Eric told me that they had never played live together but they had spoken about it for almost 15 years. Do not miss their Saturday performance in the SVIP lounge at 2 PM for this quasi acoustic performance of both of these accomplished musicians. Also, catch both of them all over The Farm this weekend as Eric Krasno is playing with Lettuce during their late night set at honoring Jerry Garcia Band at the Relix Stage on Saturday night (more on that later) and Scott Metzger who will play on the same Relix Stage in the late night slot with Joe Russo's Almost Dead; in addition, Scott will play with Chris Harford's Band Of Changes. Remember LOCKN' puts first the spirit of collaboration so don't be surprised to see both of these artists sitting in with other acts unannounced as well! Additionally, I spoke with DJ Logic for some time last night about one of the highlight mash ups of this coming weekend.  Logic talked to me about the other 3 trips to The Farm to play LOCKN' Festival.  DJ Logic told me one of his favorite previous collaborations occurred last year when Bob Weir sat in with him during the same SVIP set he is playing this year.  This year Logic is paired up with the icon and multi-instrumentalist Taj Mahal for a full improve set which you can check out in the SVIP lounge on Friday night at 10 PM. Logic told me "It was an honor having Bob Weir last year jamming with me. It is also a huge honor to collaborate with Taj Mahal in this improvisational setting. Expect the grooves that bring the blues and something super funky…in a logical way." Although everyone will not have access to this set, this is one of the main features which make the option of upgrading to VIP or SVIP quite worth it. Logic also hinted to me that you never know who else DJ Logic and Taj Mahal will invite to sit in and bring to his set…that is what makes it so super.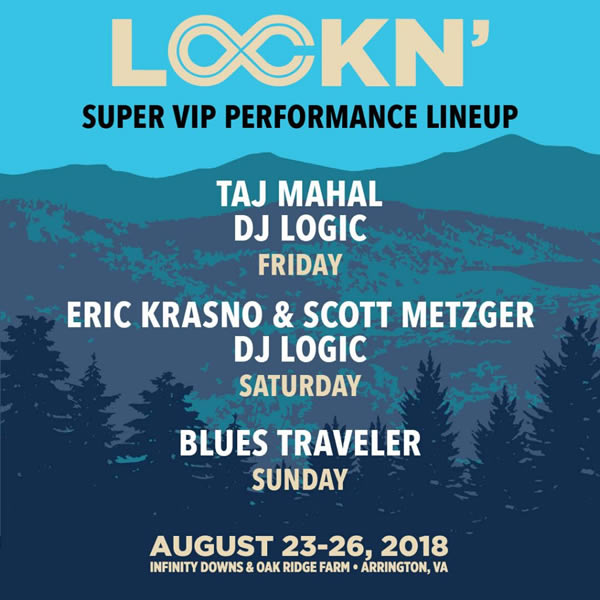 Foundation of Funk
Anytime I get to see George Porter Jr. and Zigaboo Modeliste and Cyril Neville together it does my heart and soul well.  This year LOCKN' is bringing to us a stellar line up to Celebrate 50 Years of the Meters with 2.5 members of the Original Funk Icons The Meters with George Porter, Zigaboo and Cyril Neville combined with half of the funk institution Dumpstaphunk which include 2 members of the Neville Family Ivan Neville and Ian Neville, along with the long-time bass player and krewe member Tony Hall.  For those not intimately aware, The Meters are the ORIGINAL New Orleans Funk Band which formed in 1968 with founding members Zigaboo Modeliste (one of my all time favorite drummers. The drummers in our scene's favorite drummer! If you want to find and meet your favorite drummer that will play on Saturday you NO DOUBT will find them somewhere close to the vicinity of Zig while he is playing! But I digress), one of the most talented, deep, loving, exuberant and phenomenal souls to ever grace this planet George Porter Jr. (bass), Art Neville (piano) who is Ian Neville's father and funk guitarist Leo Nocentelli (guitar).  Just this year, The Meters were presented the befitting Grammy Lifetime Achievement Award.  I am so excited to hear this ensemble play together as they are presently touring starting Thursday night at The Capitol Theatre. Another wonderful quality of performers that have been doing their thing for so long is the fact that they tend to like to collaborate with the newer artists on the scene and this group of artists is no exception. Expect to see some lucky artist get up on stage with some of their personal heroes, George Porter Jr. and Zigaboo Modeliste. Foundation of Funk will be performing on the Main Stage at 6 PM on Saturday.
George Porter Jr. recently shared this vintage mint 1975 recording of The Meters in their prime. Put this in your ear hole now to get pumped to hear the best funk music by the original funksters here!
The Meters show in New Orleans Jazz Fest in 2012 by The Funk It Blog:
John Mayer is about to sit in with Anyone & Everyone at LOCKN' Festival (his words)
According to a conversation this past Sunday with David Gans and Gary Lambert on SiriusXM's Tales From The Golden Road on Sunday evening, John Mayer has a feeling his busy LOCKN' schedule will not be confined to Dead & Company's scheduled sets. As the guitarist explained, "I am looking forward to LOCKN'. There's a lot of bands that I want to go see. My guitar will not be in its case very much, while that festival is going on." He elaborated, "If I go to LOCKN' and stay in my hotel room the whole time, pardon my French, but I'm just a dick…I don't even know that I'll have a guitar case with me while I'm there. I want to go play as much as I can." Mayer will have a long list of potential collaborators to play with when he arrives at The Farm this week. In addition to Dead & Company, John Mayer will have the chance to sit in with anyone of the following already epic bands including two sets of Tedeschi Trucks Band, three sets of Lettuce (including a special tribute to Jerry Garcia Band with Eric Krasno), three sets of Umphrey's McGee (including one Led Zeppelin set with a sitin from Jason Bonham), Widespread Panic (with help from Margo Price), Band of Changes, Joe Russo's Almost Dead, Pigeons Playing Ping Pong, Foundation of Funk, Sheryl Crow, Grateful Grass with Keller Williams and John Kadlecik, Blues Traveler and loads more.
Check out the entire Tales from the Golden Road interview here!
Dead & Company Closing LOCKN' Festival with Branford Marsalis
Truth be told—I have been waiting decades to see Branford Marsalis play with the members of the Grateful Dead, Bob Weir, Mickey Hart and Billy Kreutzmann.  I was 3 years away from seeing the Grateful Dead in 1990 when Branford Marsalis showed up and played with The Grateful Dead at Nassau Coliseum. I was also, SO BUMMED, to miss when he came out unannounced and played a set with Furthur at Red Rocks. However, this time it's announced, the reunion is here and coming to LOCKN' Festival for all of us to see and hear. I could not think of a better way to end this stupendous festival then finally getting to watch Branford and Dead & Company close LOCKN' on the Main Stage on Sunday night starting at 8:45. Do not consider leaving…if you make it all the way to Sunday do not miss this once in a lifetime (for me at least) performance of the absolutely best improvisational players alive!
Lettuce Celebrating Jerry Garcia Band with Eric Krasno
Anyone who knows me knows that I am the most hardcore Lettuce fan around. Lettuce, straight up, is my favorite current touring band. I have seen them hundreds of times and if you knew what was good for you…you would too. On Thursday night, they are playing 2 interlocking sets with Umphrey's McGee on the Main Stage which could have made me happy just with that goodness…but no. Lettuce is about to play my absolutely FAVORITE MUSIC…the Jerry Garcia Band music. My favorite band playing my favorite music…a girl can die and go to heaven. This is why this show ranks on this list as my NUMBER 1 set not to geek it and miss it. The Lettuce boys are consummate professionals who take their musicianship deadly seriously. I cannot wait to hear their take on the JGB sacred cannon. Do not miss this folks. The psychedelic euphoria will abound and will launch off that stage during this one!  I, for one, will be there, right in the front row raging so hard. My advice is that you should do the same!!
Safe travels folks!! See you on The Farm! Come say hello!
---